Why Join?
HBA Membership Benefits
National Association of Home Builders (NAHB)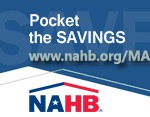 NAHB Member Advantage. As an NAHB benefit, members have access to discounts and savings opportunities offered by many top companies. All programs, rates, and prices are subject to change without notice.
NAHB members can access each program using the co-branded links below, or download a one-page overview of all discounts including phone numbers and program codes.
When making contact, the companies below request that callers identify themselves as members of the National Association of Home Builders.
For more information about this item, please contact Sarah Swango at 202-266-8273 or via e-mail at sswango@nahb.org.
National Purchasing Partners
 National Purchasing Partners serves more than 100,000 member organizations, and is one of the largest group purchasing organizations in the nation. NPP negotiates discounted rates on many products and services, and passes the savings to our members. NPP is owned by Virginia Mason Medical Center, a non-profit healthcare facility recently named the nation's top hospital of the decade.
Many NAHB members are already saving time and money through this program.
Registering is free and easy.
Member to Member Benefits
Thank you HBA members for passing on your discounts and savings to other HBA of Greater Springfield Members as a benefit for membership. Although not all seen below are exclusively for members we hope that more members will begin providing "Member Only" discounts in the near future.

Get Ready to Grow your Business at the HBA Home Show, Set for May 7, 8 and 9.
February is "Plant The Seeds of Greatness Month." It's never too early to start planting seeds for business growth. Let EDC – PRINT, PROMO and FULFILLMENT and your Co-Op $$$ grow your business in 2021!