Visit 2014 HBA Parade Homes and Just Maybe – Win a $3,000 Grill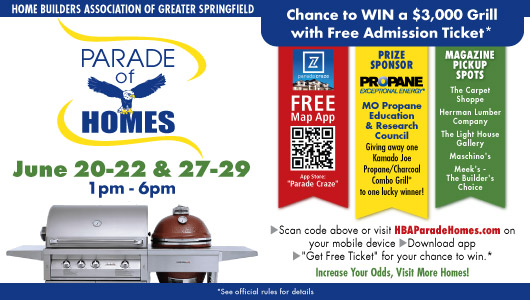 It's that time of year again for the HBA Parade of Homes and we are excited to unveil our free Parade Craze Map App!  This app allows users to register for a ticket, see information on each home and plot out your Parade Route. Of course, this also registers Parade Home visitors for a chance to win a $3,000 ComboJoe Grill (Kamodo Joe Propane/Charcoal Grill) provided by the 2014 Parade of Homes Prize Sponsor, Missouri Propane Education & Research Council.
With this new app comes a need for volunteers at each home to assist in the simple task of distributing and scanning tickets.  Volunteers will need to have an Apple device so that the tickets can be scanned into the app (iPhone, iPod or iPad; each must have a scanning feature and a data package for internet access is preferred).
If you are wanting to volunteer but do not have an Apple device, please let Jamie know. There are other places where help is needed or we will see if there is a super nice HBA Member that is willing to loan us a few Apple devices:-)
Parade dates are June 20 – 22 and June 27 – 29.  There will be 12 different shifts per house that will need to be filled with 3 volunteers in each shift. The shifts will be from 12:30 – 3:30 pm and 3:00 – 6:00 pm each day.  If you do the math, that is 504 volunteers… so the HBA Needs You!
This is a great opportunity for you and your family to get involved in a great HBA Event. BTW – You don't have to be an HBA member to volunteer, so your spouse, friends, relatives, etc. are welcome to volunteer. Just think of all the cool homes that you will see and people that you can meet! If you plan it right, you could volunteer for six of the fourteen homes on parade. All volunteers will be recognized on Facebook, Twitter, HBASpringfield.com and in our HBA Housing e-News (unless requested otherwise).
Contact Jamie TODAY if you would like to volunteer or if you have any questions about the Parade of Homes.