Top Ten Dealer Award & Golden Compressor Award – SS&B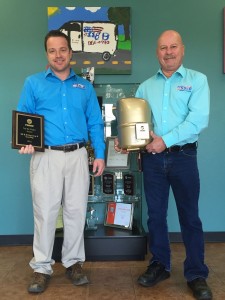 On Friday February 19th, 2016 at the annual Trane Dealer Meeting in St. Louis Missouri, SS&B Heating & Cooling was presented with two Awards.
The first award was for being in the top 10 dealers in the region which spans 5 states.
The second award was a Golden Compressor Award for being the Top Trane Dealer in our territory which spans from Cassville to West Plains, and from The Lake of The Ozarks south to the Arkansas state line!
Congratulations Mike and Jeremy and SS&B Heating and Cooling.
This post brought to you by SS&B Heating and Cooling