Do you like to shoot things?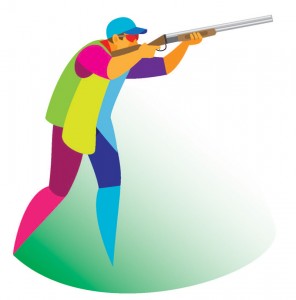 Are you an avid hunter?  Or maybe you just enjoy being outdoors and shooting at things in the sky.  Either way, the NEW HBA Sporting Clays Tournament is just for you!  Save the date and plan to join us for a day of Clay Shooting.
Thank you to our Event Sponsor – Southern Materials Co. for helping us get this new event under way.
June 2 @ Ozark Shooter Sport Complex
Check-in – Lunch @ 11:15; Tournament Begins at 12:30; Awards Ceremony will follow the conclusion of tournament.
5-Person Team; $80 per person entry fee
Click here to download the entry form. Questions, email Jamie,  Jamie@SpringfieldHBA.com .
Sponsorships still available!! This is a great way to advertise your company! 

Lunch Sponsor – Sponsor will be listed on the event entry form and in the event recap article.  Signage will be placed where the food is served. Sponsor will have the opportunity to address the audience.  1 available – cost is $500.
Ammo Sponsor – Sponsor will be listed on the event entry form and in the event recap article.  Stickers with sponsor logo will be placed on boxes of ammo to be handed out to participants.  One box of ammo will be given to each participant.  1 available – cost is $500.
Stand Sponsor – Sponsor will be listed in the event recap article. Signage with  sponsor logo will be placed at one stand.  5 available – cost $200.
If you are interested in any of these sponsorships, contact Jamie at 417.881.3711 or email Jamie@SpringfieldHBA.com.

Thank you to our current sponsors:

Event Sponsor – Southern Materials Co.
Long Bird Sponsor – Wildman Plumbing
Stand Sponsors:

Meek's – The Builder's Choice
Southern Supply Co.
IKO
Metro Appliances & More
Friga Construction Co.
Wildcat Materials
Missouri Sun Solar