ProSource Wholesale of Springfield Announces Grand Opening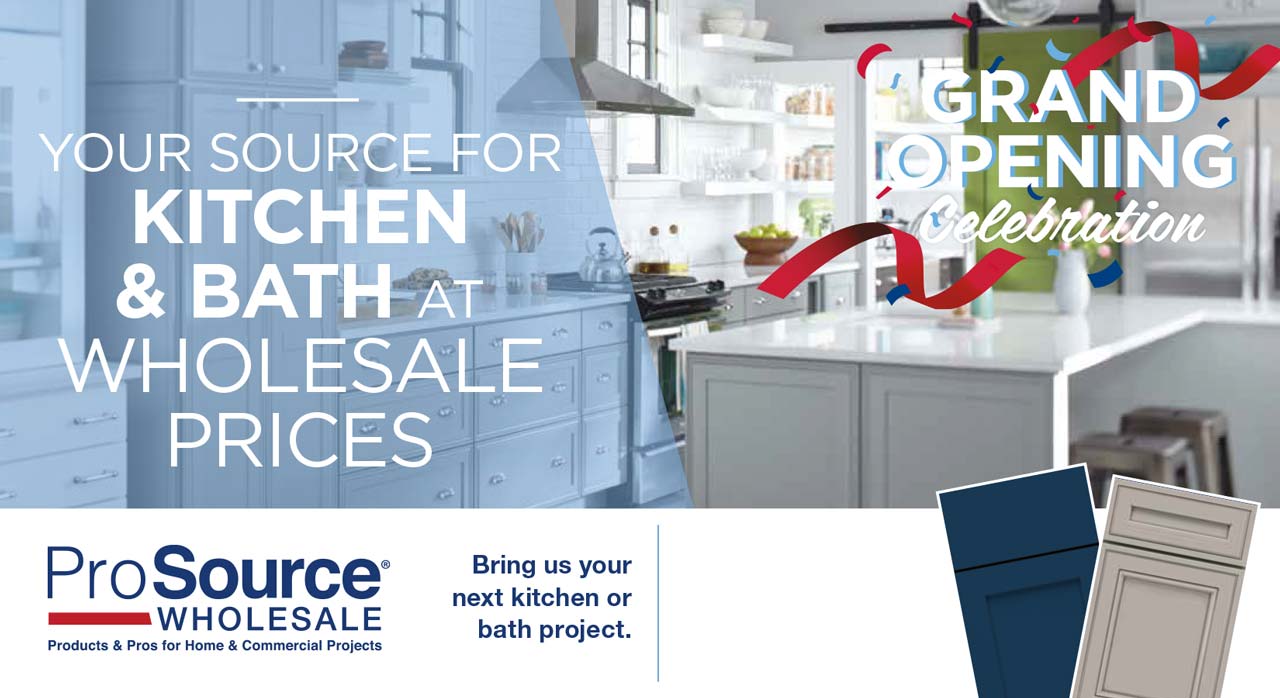 PROSOURCE WHOLESALE® OF SPRINGFIELD, MO ANNOUNCES GRAND OPENING OF KITCHEN AND BATH SHOWROOM ON APRIL 22, 2021
ProSource Wholesale of Springfield, MO, the industry leader when it comes to understanding and meeting the needs of trade professionals and their clients, announces the grand opening of their kitchen and bath showroom. The beautiful showroom is located at 2745 Suite B South Kansas Expressway, Springfield, MO.
The showroom, designed exclusively for the trade professional such as builders, remodelers, installers, designers and realtors, features over 50,000 product choices, including private label and name brand carpet, hardwood, ceramic, luxury vinyl tile, laminate and more. In addition to floorcoverings, the showroom is a one-stop shop offering kitchen and bath design, cabinets, countertops and installation supplies to help trade pros deliver successful projects for their clients. Online, trade professional members also gain exclusive access to myProSource, a resource designed to connect them with client opportunities and project management tools. Additionally the ProSource Trade Pro App, puts the power of ProSource Wholesale in the hands of trade professionals allowing them to manage their projects with ProSource on their mobile device wherever they are.
"I appreciate the support we have received in this community and everyone loves the ProSource concept," said Linda Merkling, Showroom Manager at ProSource of Springfield, MO. "We benefit the trade professional by offering solutions for new home construction or remodeling projects. I am blessed to have a team of experienced professionals ready to plan your next project. We have two designers to draw your plans with a beautiful showroom to choose from. Let us be a partner in your business."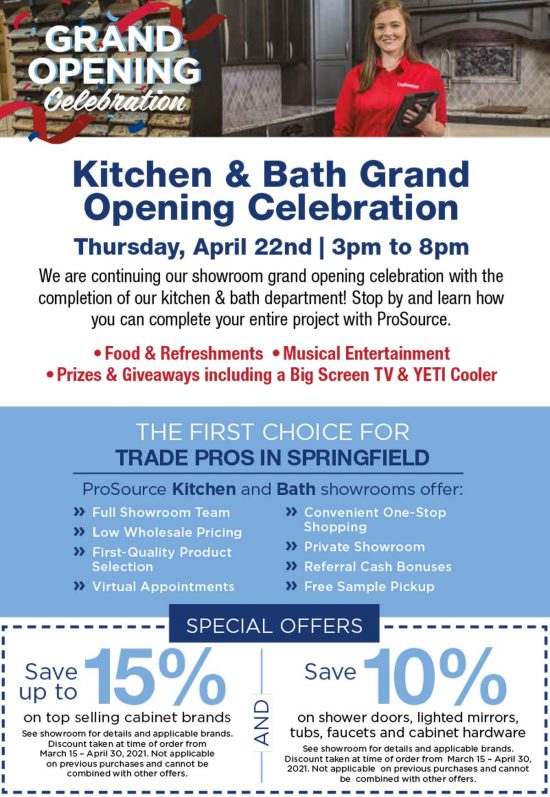 "We are proud to be a part of this community and believe in giving back. We have partnered with Habitat for Humanity to provide affordable housing," said Caleb Foglesong, ProSource of Springfield, MO franchise owner. "We support local business and are an asset to trade pros and their clients in the region offering low wholesale prices."
ProSource of Springfield, MO is one of 148 North American private showrooms that sell exclusively through a qualified network of more than 400,000 trade professionals who have become members since 1991. A consumer's only access to the best wholesale home improvement values in the industry is through their builder, remodeler, interior designer, general contractor, real estate professional, installer, or other trade professional.
ProSource Wholesale of Springfield, MO, The First Choice for Trade Pros in Springfield
ProSource of Springfield (MO) stands tall with our belief in building lasting relationships with our trade pros
members and their homeowner clients. We're committed to ensuring your success and act as your partner
throughout your home remodeling or commercial improvement project.
We invite trade professionals — architects, builders, contractors, designers, installers, remodelers, and more — to
become members of ProSource, where you'll gain access to a multitude of benefits such as:
• Project leads and other business growth opportunities
• Dedicated account manager, and an entire team, offering personalized service
• Expert kitchen and bath design services
• Unmatched product selection in a private showroom environment
• Low, wholesale pricing
• Financing options
• ProKey® 24-hour showroom access
• Free online project collaboration and management tools
To learn more about ProSource of Springfield, MO visit https://www.prosourcewholesale.com/showrooms/mo- prosource-of-springfield or call (417) 507-1733.