Parade of Homes Smart Phone Friendly – Google Maps & Directions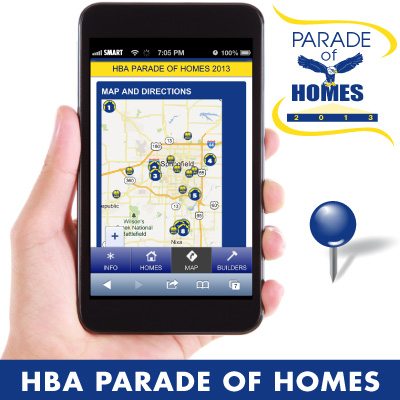 Don't miss this year's Parade – June 21-23 and June 28-30. Homes open 1pm to 6pm each day. This year's Parade features a mix of both custom and spec homes in a number of price points.
The HBA of Greater Springfield is proud to announce the debut of our Parade of Homes Mobile Website. You now have instant access to all Parade of Homes information including Directions, Maps, Photos and Parade Builder Profiles! Finding Parade homes in the past has been challenging – quite often they are built on roads that don't exist on maps. Simply log on to SpringfieldHBA.com and click the Parade of Homes logo – if you're on a smart phone, this will take you directly to our mobile site where you can access maps and directions that will guide you straight to the Parade Home of your choice.
Click here to go right to the Parade Mobile Site if you are on a smart phone. If you are on a desktop computer, iPad or other device you will see the Parade of Homes page with very similar content, including google maps/directions, but more tailored for larger screens.
No matter what device you use to find the Parade Homes you will see that HBA builders continue to offer incredible craftsmanship, value and innovation in both design and construction in our area — and they can do it in every price point, while incorporating energy efficient practices that customers want!
There's something for everyone at the 2013 Parade! Are you looking for a three bedroom home close to a city park? We've got that! How about a home that has an office with a separate entrance? We've got that! Are you looking for a home with elaborate curved staircases and custom treads? We've got that! Is energy efficiency your main focus point? We've got that too! Make sure you see all eight homes on Parade this year – you're sure to find what you want! If you don't find exactly what you want, the Parade is a great opportunity to visit with Quality Insured HBA Home Builders to plan the home of your dreams.
Don't forget to pick up a Parade of Homes HBA Event Magazine at any of the Parade Homes or at these locations:
WHAT:           The 2013 HBA Parade of Homes
WHEN:          June 21-23 and June 28-30.
TIME:             Homes are open from 1 to 6 pm.
WHERE:         Springfield/Greene County area, Nixa and Willard
COST:             The Parade of Homes is a FREE event
Anyone wishing to view Parade Homes may PICK UP FREE PARADE EVENT MAGAZINES (featuring Parade homes, maps/directions to homes, etc.) at the following locations: The Carpet Shoppe (1827 E. Seminole St., Springfield), Herrman Lumber Co. (1917 S. State Hwy MM, Springfield), The Light House Gallery (4113 S. National Ave, Springfield), Maschino's (1715 S. Campbell Ave, Springfield), Meek's – The Builder's Choice (1551 W. Mt. Vernon, Springfield;  3231 N. Glenstone, Springfield; 3250 E. Sunshine, Springfield; 1355 E. Highway 60, Republic; and Highway 160 N, Nixa.
MORE INFORMATION:    For more detail about homes, addresses and maps to home, go to SpringfieldHBA.com and click on the Parade of Homes logo.
PARADE ENTRIES:
Monticello Homes & Development: 6409 N Still Lane, Willard – Approximately $500,000. 3 bedrooms, 2 ½ baths on wooded acreage. Features custom fiberglass beams, a beautiful custom railing with wildlife accents and an open floor plan.
MGM Properties, Inc: 3739 W River Rock, Stonehinge, Springfield – $195,000. All brick and stone exterior single story home featuring granite countertops, 10' ceilings and a covered patio, all next to the Rutledge Wilson City Park.
Robbins Create & Construct: 2360 S. Marlborough, Marlborough Manor, Springfield – $350,000. Walk-Out basement home with brick and stone exterior featuring high efficiency Windsor windows, 90+ HVAC system and custom alder cabinetry with rope trim.
King Built Properties: 442 S. Oaks Drive, The Oaks, Springfield. Two story home with walk-out basement features two curved staircases – one with travertine treads and one with custom handmade treads. Home also has 24×24 travertine flooring and hickory hardwood flooring, a geo thermal HVAC system and custom alder cabinetry.
MGM Properties, Inc: 2531 E German Ivy, Olde Ivy, Springfield – $350,000. The 2013 St. Jude Dream Home – purchase your chance to win this home for only $100. The drawing will be held on June 30th. This home features a custom entry door, rustic beams and an upgraded insulation package.
Martin Building & Development: 1436 N Rich Hill Circle, The Villages at Wicklow, Nixa – $400,000. A walk-out basement home with 5 bedrooms and 3 baths. Home features wood, natural stone and acid stained concrete flooring, French country cabinetry and a 90+ efficiency forced air furnace.
Hawthorne Creek Homes, LLC: 1212 N Bay Meadow Court, Copper Leaf, Nixa – Upper $200's. This home has a stone and brick front, complete with a French turret. It features custom cherry cabinetry, a 95.5% efficiency HVAC, insulated crawl space and has architectural niches.
MC Homes, LLC: 646 N Maplewood Hills Rd, The Columns at Century Park, Nixa – $219,900. A single story home with a brick front includes 4 bedrooms, 2 baths PLUS a separate office with an exterior entrance. Home features granite countertops, a gas fireplace, a heat pump and a back deck.