Interested in having a booth at the Home Show?
Contact the HBA for availability for each Hall of the EXPO Center.
REGISTRATION FORM WITH RULES & REGULATIONS
Home Show Contract, includes rules & regulations.
For height restrictions and other frequently asked questions, visit our Event FAQ's page.
VENDOR WRISTBANDS
Exhibitors will be supplied with up to fifteen (10) wristbands per 10x10 booth.
YOUR WRISTBAND GETS YOU INTO ALL EVENTS AS WELL AS THE VENDOR LOUNGE.
Wristbands can be picked up during set-up or upon check-in.
SET-UP DEADLINE
All booths must be completely set up by 5 p.m. on Thursday, April 21. There will be no exceptions.
HOURS:
SET-UP
Tuesday, April 19: 8 am – 5 pm
Wednesday, April 20: 8 am – 8 pm
Thursday, April 21: 8 am – 5 pm
HOME SHOW
Friday, April 22: 12 am – 6 pm
Saturday, April 23: 10 am – 7 pm
Sunday, April 24: 11 am – 4 pm
TEAR DOWN
Sunday, April 24: 4 pm – 7 pm
(NO BOOTH MAY BE DISMANTLED, EITHER PARTIALLY OR COMPLETELY, PRIOR TO 4PM WITHOUT INCURRING A FINE. NO EXCEPTIONS. SEE THE RULES & REGULATIONS FOR DETAILS.*)
Monday, April 25: 7am – 4pm
*If you have a booths directly in front of the EXPO floor loading dock door, please see Event Coordinator for exit plan for event conclusion.
FLOOR PLAN & MAP
There are three areas for exhibitors.
Upper Hall – West Wing
Lower Hall – West Wing
EXPO 100 Hall – East Wing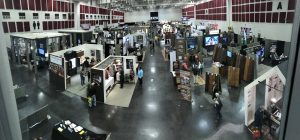 Looking for more ways to get involved with the HBA? Volunteer Volunteer at the 2022 Home Show A perfect way to give back and network is to volunteer at the HBA Home Show from Friday, April 22, thru Sunday, April 24. The Home Builders Association is looking for members to volunteer to drive vendors in our golf…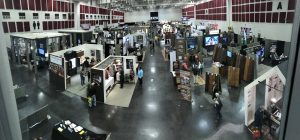 New 2022 Home Show Date – Moving to April 22-23-24, 2022 New 2022 Home Show Date – With careful consideration, the HBA Home Show Committee, with agreement from the HBA Board of Directors, has decided to move the HBA Home Show to April 22-23-24, 2022. With the unfortunate timing of the current Covid Surge, the…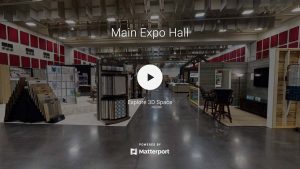 HBA Virtual Home Show 360 Sponsorships and Tag Highlights available for the HBA Home Show 360º Virtual Tour (See opportunities & pricing below). Available first to HBA Home Pro Home Show participants. Remaining availability will open to HBA Home Pros unable to participate in the Home Show. WATCH VIDEO BELOW Take a Tour of the…