Metropolitan National Bank Gives Money & Volunteers Time to Big Brothers Big Sisters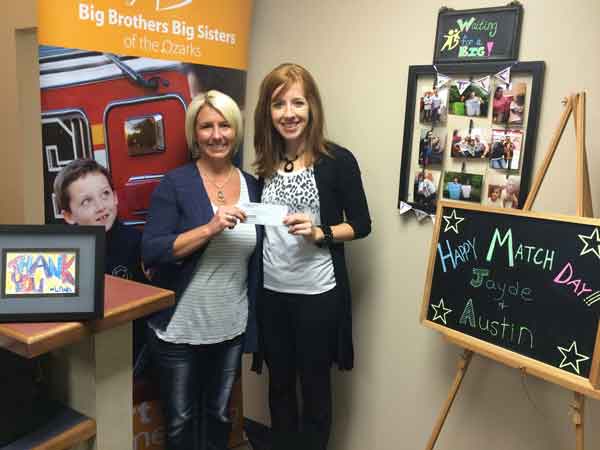 Members from Metropolitan National Bank's Springfield team volunteered over 25 hours of their time to Big Brothers Big Sisters of the Ozarks' Back to School Bash. In addition to their time, the team contributed funds to support the annual event that provides school supplies to the children in the organization to get them ready for the upcoming school year.
"Our continued partnership with Big Brothers Big Sisters of the Ozarks allows us to support an annual event ensuring that the kids of this organization are prepared to start their school year," says Megan Neyer, AVP, Customer Service for Metropolitan. "This opportunity given to these kids steers them in the right direction for a successful school year, which ultimately provides lifelong achievements."
Big Brothers Big Sisters is a national organization and is the largest donor and volunteer supported mentoring network in the country. At Big Brothers Big Sisters of the Ozarks, they create meaningful one-on-one matches between adult volunteers and children, ages 6-18, throughout communities in our area. To learn more about the organization, visit www.bigbro.com.
Metropolitan National Bank continues to support organizations in our community who are dedidcated to supporting the growth and success of the youth in our area. Big Brothers Big Sisters of the Ozarks is just one of the many organizations that members of the Metropolitan National Bank team support with their time and personal donations. To learn more about how Metropolitan is making a difference in our communities, visit www.MetroNationalBank.com.
About Metropolitan National Bank
Metropolitan National Bank is dedicated to building strong relationships, committed to providing quality services and strives for excellence every day. A subsidiary of Marshfield Investment Company, Metropolitan National Bank is a strong community bank serving the needs of individuals and businesses through 12 full service branches in Springfield, Marshfield, Nixa, Lamar, Golden City, Branson West, Kimberling City, Blue Eye and Hollister. With cutting-edge technology and quality financial products and services, Metropolitan National Bank is a member of TransFund and MoneyPass® ATM networks, which provides customers surcharge-free access to a nationwide network. For more information, visit the Metropolitan National Bank website at www.MetroNationalBank.com