Metropolitan National Bank Welcomes a New Commercial Loan Officer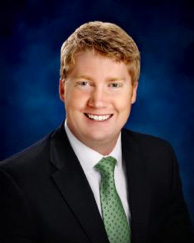 Metropolitan National Bank is pleased to welcome Brandon Plank as a new commercial loan officer at the Lamar Banking Center. Plank brings to Metropolitan two years of banking experience and a solid understanding of the financial tools and strategies to best serve Metropolitan's customers in the Lamar community.
"Brandon is certainly a valuable addition to our Metropolitan team and the City of Lamar," said Rick Windes, EVP Chief Lending Officer "He possesses an inherent ability to create genuine, personal relationships with our customers. In doing so, Brandon is able to effectively develop solutions that are tailored to customers' specific needs."
Plank received his BSBA in Management from Missouri Southern State University in Joplin, MO. Following graduation, Plank put his degree to use serving as club manager for the Lamar Country Club, where he gained real- world experience in leadership and management strategies. Plank also served two years as a personal banker with U.S. Bank in Lamar prior to joining Metropolitan on November 14, 2014 as a commercial loan officer.
Today, Plank looks forward to making a positive difference in the lives of Metropolitan customers. "I'm excited for the challenge that being a commercial loan officer in a rural community brings, and I hope my work will soon show me to be an asset not only to Metropolitan National Bank, but to our customers and the community," said Plank. "I have come to love the City of Lamar, so being able to have a position such as this is a very exciting opportunity."
Plank's appreciation for the City of Lamar is evidenced by his community involvement, serving as a member of the First Christian Church of Lamar and the Lamar Country Club. He is also an active and enthusiastic supporter of Lamar Tiger Athletics.
Metropolitan proudly welcomes Brandon Plank to the Lamar branch of Metropolitan, and to the community it serves.

About Metropolitan National Bank
Metropolitan National Bank is dedicated to building strong relationships, committed to providing quality services, and strives for excellence every day. A subsidiary of Marshfield Investment Company, Metropolitan National Bank is a strong community bank serving the needs of individuals and businesses through 12 full service branches in Springfield, Marshfield, Nixa, Lamar, Golden City, Branson West, Kimberling City, Blue Eye and Hollister. With cutting-edge technology and quality financial products and services, Metropolitan National Bank is a member of TransFund and MoneyPass® ATM networks, which provides customers surcharge-free access to a nationwide network.
For more information, visit the Metropolitan National Bank website at www.MetroNationalBank.com
CONTACT: Metropolitan National Bank Mark McFatridge, President & CEO (417) 862-2022 600 South Glenstone Springfield, MO 65802