Metro Appliances & More Completes Store Remodel, Extends Hours

Metro Appliances & More is pleased to announce that their ambitious remodel of their Springfield store, which has been underway for the past year, is finally complete. Customers can expect a smooth and seamless shopping experience to complement the store's new floor-to-ceiling look, which more broadly showcases Metro's extensive line of appliances (of which there are more than 60 brands to shop).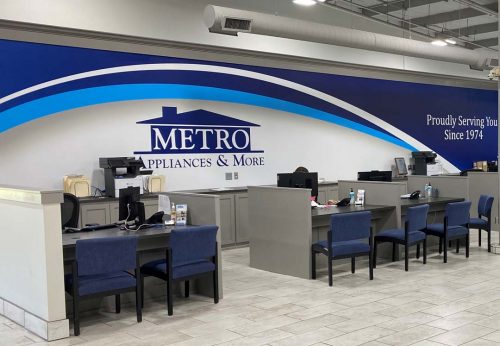 In conjunction with the completed remodel, Metro will likewise be extending their hours beginning on July 6th.
---
Monday – Thursday: 8am – 7pm
Friday: 8am – 5pm
Saturday: 10am – 5pm
---
A Springfield staple for 27 years, Metro Appliances & More is currently adding sales personnel to better serve customers. Local delivery is free, as is the haul-away of the replaced appliance. Non-local deliveries can be arranged up to a radius of 100 miles from the store. Metro Appliances & More will price-match any appliance purchased locally up to 30 days following the sale and reimburse customers the difference. 
---
UPCOMING EVENT:
HBA Cornhole Metro Open - July 22nd, 2021
Open to HBA Members, by invitation and to companies considering HBA Membership.
Come play or come by to see the newly remodeled showroom.
Please RSVP so we will know how much food, beverages and door prizes to provide.
Click here for more info about the tournament
---
Metro Appliances & More operates eight locations across four states in the Midwest and has been a leader in the appliance industry since 1974.