Launch Party for the Membership Directory – Fried Chicken, Bobo & Giveaways
Builders and Remodelers – how can you pass up free fried chicken and dessert? Bring the entire family! Consider it a Summer Kickoff as well as the unveiling of the 2014-2015 HBA Membership Directory.
Associate Members – this is an event you do not want to miss and we can only assume that you like fried chicken as well as Builders and Remodelers. Maybe we should make this a challenge. Who will have the highest ratio of members in attendance? Don't make your side be the losers! Sign up and put it on your calendar NOW.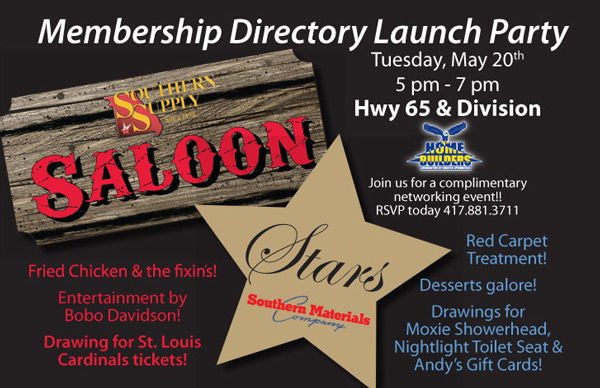 If you know someone that would like to become a member, this is a great event for them to get to know Quality Insured Professional of our HBA. Send us an email to let us know of someone you would like to attend.
INCREASE YOUR CHANCES TO WIN!
You could WIN a Moxie Showerhead (it sings), Nightlight Toilet Seat (yes… toilet seat with a light), Andy's Gift Cards or St. Louis Cardinals Tickets while enjoying fried chicken and some Bobo Davidson – all compliments of Southern Supply and Southern Materials (See full menu below). RSVP to Emily and enter the code #HBAHomePros in the subject line. Look for posts on our Facebook and Twitter to increase your chances even more.
Sign Up and Add it to your Calendar with simple clicks below.
RSVP before Monday, May 19th
HBA Members and Prospective HBA Members ONLY
RSVP ASAP – Emily@SpringfieldHBA.com or 417. 881.3711
Enter the code #HBAHomePros in the subject line to increase odds of winning
Launch Party Sponsored by Southern Supply and Southern Materials

Southern Supply, East Division Street, Springfield, MO – Map to Location
Menu Supplied by Sponsor: Fried chicken, meatloaf, mashed potatoes, corn bread, green beans, fried okra and assorted beverages at Southern Supply. Lots of cake pops, assorted desserts and dessert beverages at Southern Materials.*
 Click to add HBA events & important dates to your calendar
HBA Membership Directory Launch Party Sponsored by:
*The HBA of Greater Springfield, Southern Supply and Southern Materials are not responsible for any reactions to food allergies, stains on clothes, over entertainment, over eating, or other over consumptions that may occur at this event. Drive responsibly to the event and away from the event:-)