Membership Directory Advertising – Reserve Ad Space Before Monday
Reserve your annual HBA Membership Directory ad space before Monday, April 20th to be entered to win a FREE BANNER AD on HBAHomePros.com ($400 value). Drop Dead Dealine April 24th!!!
Add This Deadline To Your Calendar (simply click your calendar below):
Outlook – Google – Yahoo – Outlook.com – iCal
The last day to reserve ad space is Friday, April 24th so call Aaron Today at 881.3711 or send and email to Aaron@SpringfieldHBA.com. Be sure to include your ad size, whether you will be supplying artwork, need help with artwork and if you want to take advantage of the $50 BONUS ad on HBAHomePros.com (well worth the $50).
This is your chance to double check your company listing as well. To see a sample of the 2014-2015 HBA Membership Directory CLICK HERE to view or download a pdf file in Dropbox. Any changes to your listing must be requested before April 24th.
Simply Email Aaron@SpringfieldHBA.com to reserve your ad placement.
Click here for Ad Rates and Sizes.
Add This Deadline To Your Calendar:
Outlook – Google – Yahoo – Outlook.com – iCal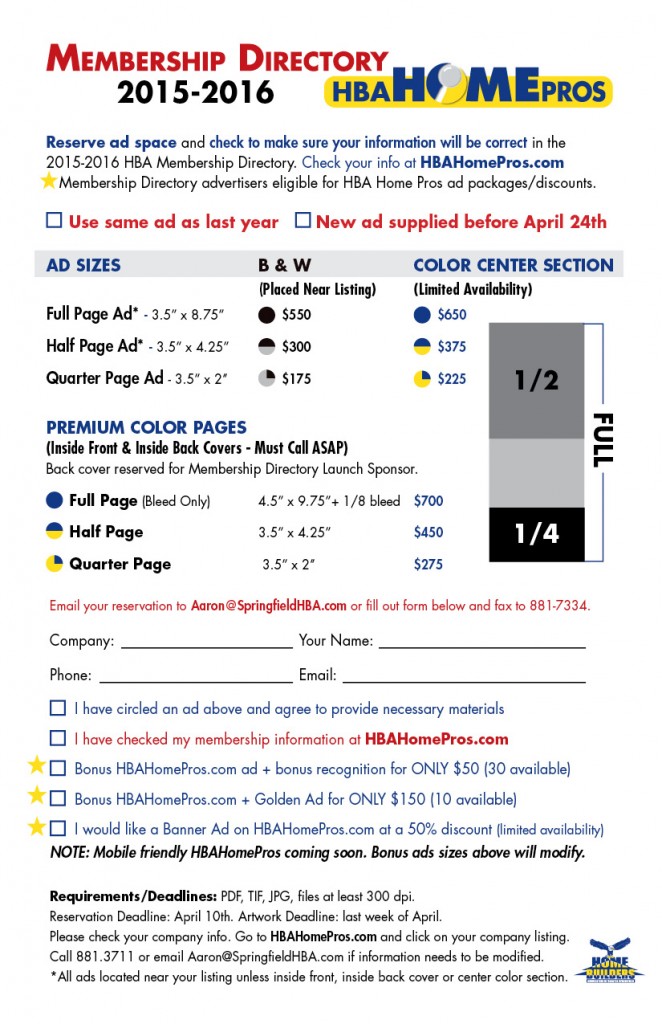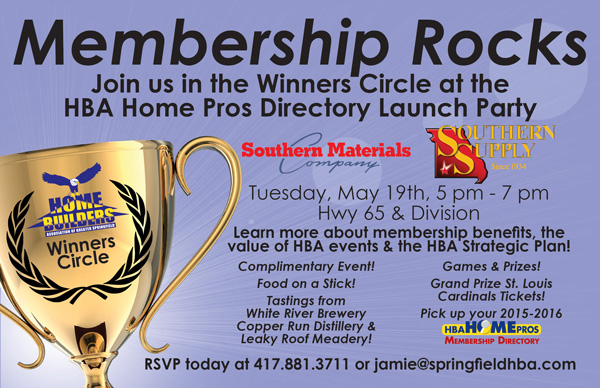 NOTE: HBAHomePros.com will be experiencing upgrades in the near future. Layout, design and functionality enhancements will make the HBAHomePro.com more user-friendly – especially for mobile devices.
Be on the lookout for information about the HBA Membership Directory Launch Party "Membership Rocks" at Southern Supply and Southern Materials on May 19th.