It's CORN MADNESS – A FUNdraiser for all who can throw a bag of corn
Wahlquist 02/26/2015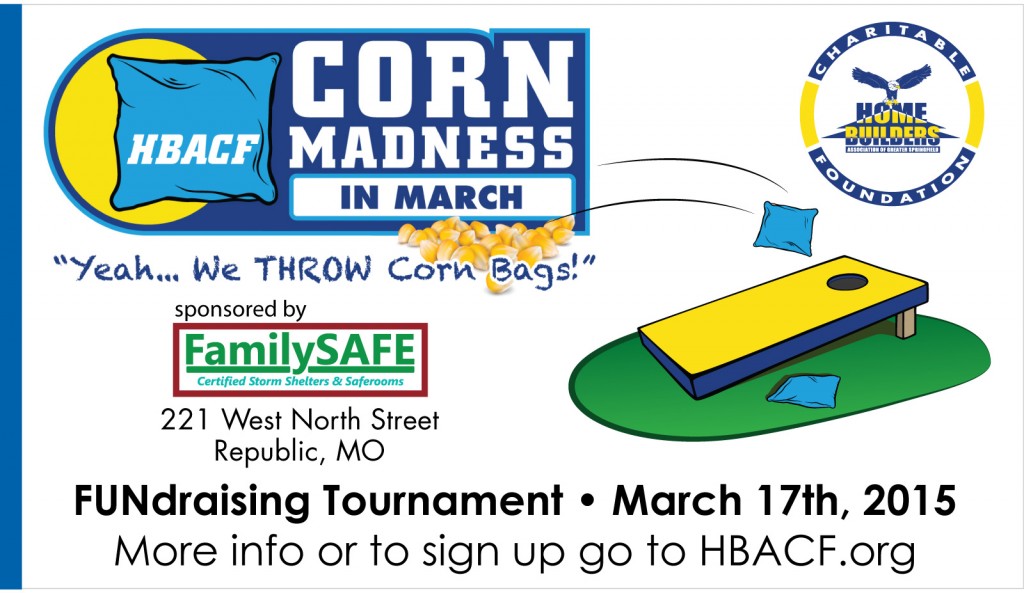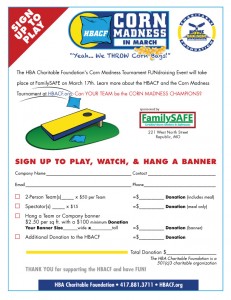 Give back to your community by throwing corn bags into a hole on a board. Yeah... that's right - It's CORN MADNESS!!!
SIGN UP NOW - LIMITED SPACE AVAILABLE!
Simply email Jamie@SpringfieldHBA.com.
Include company name and the name of the two people on your team (see details below).

Fun, food and prizes like Custom Cornhole Boards from FamilySAFE, a mini-fridge from Springfield Electric, plus a variety of gift cards and an experience worth millions. Okay, maybe not millions of dollars, but the fact that you will be contributing to the HBA Charitable Foundation who in turn donates to causes that help the construction industry through scholarships, sponsorships and other means - your experience at CORN MADNESS  will be priceless!
This event is NOT just for HBA Members. Invite your friends, family, neighbors, co-workers, church or motorcycle gangs. Keep in mind this is a family event, so invite wisely!
Additional Entertainment

If weather permits, there will be inflatables for kids to play on and one really cool inflatable for adults called the Bungee Run Hoop Shootout.
March 17th is the first day of the NCAA Men's Basketball Tournament. The Tournament begins with a play-in-game that Audio Input will project for your enjoyment and the HBACF is setting up a Group on the NCAA March Madness App (iOS & Android) for you to fill out your championship brackets. Download the app (iOS & Android) and be looking for the group called HBACF to enter your bracket. (Group now open at hbags.info/CornMadness2015)
If you think you have a hot hand at basketball, FamilySAFE will also have a basketball shootout competition. See if you can be the champion and make the most shots in 30 seconds.
Play Cornhole on an APP
You say you would rather play a video game instead of physically throwing a corn bag? How about a game of Time Attack on the app Ultimate Cornhole 3D Bag Toss (iOS & Andriod). There will be a prize for the person who has the highest score on their phone. Simply play Time Attack and show us your high score on your phone at the CORN MADNESS event.
Corn Madness Details

For those that do not know what Cornhole is, it is a game where you toss four corn bags onto a board that has a hole. There are two people on each team and two boards across from each other at regulation distance. You and your opponent will alternate throws at a board. You earn one point for every corn bag that lands on the board and 3 points for every corn bag that makes it in the hole. Opponents can knock your bags off the board, so be careful! After each of you have thrown four bags (end of an inning), you count up the points. If you have 5 points and your opponent has 3 points then your team receives 2 points (5-3=2). Next, your teammate and opponent will throw four bags and this continues until one team reaches 21 points at the end of an inning. Because of the time factor the HBACF CORN MADNESS tournament will limit the time for each contest to 15 minutes. At the 15 minute mark you will have one last complete inning and the team with the most points wins.
FamilySAFE Feast and Stress Relief

FamilySAFE is providing Pizza and Wings from Rocco's, as well as cupcakes, Andy's snack cups,  chips, dip, water, tea and more. FamilySAFE will also be giving away Stress Relief Balls to the first 250 attendees.
Sign Up Now! Limited  Space for Teams 
CORN MADNESS competition begins at 5:00. The first 16 teams will begin playing between 5:00 and 5:30. Remember to sign up early in order to pick your time slots!
Team Entry Donation - $50 per team (includes meal)
Spectator Donation - $5  (includes meal)
Email Jamie@SpringfieldHBA.com to reserve your teams, sign up to watch or to reserve your banner space now.
MARCH 17th –  5:00 pm – 7:00 pm
HBACF Event Sponsored & Hosted by FamilySAFE
221 West North Street, Republic, MO