Inclement Weather Homebuyers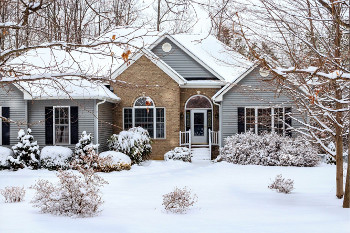 Believe it or not, there are potential homebuyers that are looking for houses during inclement weather! If a homebuyer is in need of a home, bad weather won't stop them from wanting to see a listing that they like. Here are a few tips on how to keep your home "show ready" during inclement weather.
Always make sure that your driveway and sidewalk is clear of snow, ice and mud. Shoveling thoroughly and laying down salt helps to quickly melt the ice, giving your potential homebuyers a safe walkway.
Ask your potential homebuyers and your agent to remove their shoes upon entering your home or provide them with shoe covers. Your floors can stay clean and tidy this way.
Make sure your home is set at an even temperature. If your home is vacant, try and keep the home temperature anywhere from 58 to 62 degrees so that your pipes don't freeze. If your home is occupied, 68 to 70 degrees is a great range for your thermostat to stay in. If your home is too cold, potential homebuyers will most likely not stay long for the showing and you could lose a sale.
Continue with open houses! Potential homebuyers that are in need of a home or transferring to the area will look on the weekends. If you have an open house scheduled and bad weather arrives, be sure to use the other 3 steps above and continue with the open house. Add a bonus to your home by lighting good smelling candles or having fresh bottles of water for your guests.
Last but not least, contact a Murney Associatetoday for a Comparable Market Analysis on your home. Any one of our agents can give you a general walk-through so you can get your home in showing order for the winter season!
This post by Donna Cleous – Murney Associates, Realtors