Housing News Quarterly – Summer 2012 Edition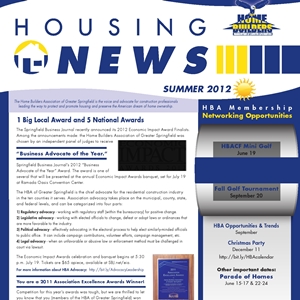 Summertime is here! Beaches. Baseball. Humidity. And, of course… the summer edition of HBA Housing News Quarterly!
Among this quarter's highlites: The HBA of Greater Springfield has been named the Springfield Business Journal's Business Advocate of the Year! And, your HBA recently received five national awards for Association Excellence – more than any other HBA in the country. Learn more in the summer edition of Housing News Quarterly! And, as always, see what's coming up and check out important takeaways from the HBA's 2012 Ozarks Regional Housing and Construction Conference.
We keep the Housing News short and simple because we know everyone is busy and time is money. Even though it is only four pages there are links to more information if you want to read more.
The Housing News Quarterly is mailed four times a year. Recently honored with the National Association of Home Builders Association Excellence Award for "Best Print Publication, Housing News Quarterly represents a colorful, visually streamlined format featuring event photos, industry news analysis and other exclusive data. Designed to minimize clutter, the Quarterly's advertising options are purposefully limited and offer higher profile branding opportunities for a limited number of member advertisers. Member advertising options in the quarterly are designed to be relevant, timely, and offer significant impact and return on investment. The quarterly mailer provides a visually interesting publication that members can hold in their hands, thumb through, and place on a coffee table.
For those who prefer viewing all HBA materials online (or for those who are not the designated member recipient of the quarterly mailer), below is a virtual newsletter version of the mailer (browse on this page, or click on the image to expand the document to full-screen size):
Housing News Quarterly was established to represent the ideal compliment to the HBA's primary means of regular, time-sensitive member communications: the Housing News Weekly e-newsletter. Housing News Weekly provides frequent, current content in an easily digestible format. Each week's email includes six to eight news stories and/or relevant blog posts.
Limited advertising options also are available for Housing News Weekly. As an electronic publication, every aspect of readership, click rates, etc. can be tracked and reported for advertising and marketing accountability. For more information about advertising in either publication, contact HBA Communications Director Aaron Wahlquist by clicking here.