Home Builders Association partners with ISABEL'S HOUSE for a Special Delivery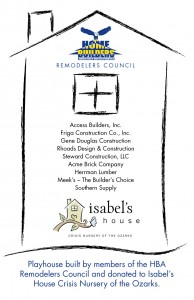 The mission of Isabel's House is to provide immediate refuge for children age's birth to 12 whose families are in crisis. By partnering with families and the community, we will strengthen families and prevent child abuse and neglect. Located at 2750 W. Bennett in Springfield, Isabel's House is open 24 hours a day, seven days a week. There is no charge to stay at Isabel's House.
The Home Builders Association of Greater Springfield partnered with Isabel's House to build and donate a playhouse full of love to be raffled a playhouse at the HBA Home Remodeling Show in October. Children were invited to write a message of love with sidewalk chalk inside the playhouse. The walls of the playhouse were painted with a special chalkboard paint inside and out. Congratulations to Mark Ramsey of Republic, MO for purchasing the winning ticket! Mark and his wife Becky were thrilled to receive the phone call and said "their grandson will thoroughly enjoy climbing through it for years to come". He may have to share it will the Ramsey's puppy who happily posed for a photo.
The funds raised through this raffle were able to provide meals and housing for the children who temporarily call Isabel's Home. Children like Suzie, Sean, and Sammy whose mother recently lost her husband and was working part time to try to keep food on the table for her children. The stress of the situation was building and she knew she needed help. She turned to Isabel's House for that help. We were able to care for her children and help her secure full time employment and connect her to resources in the community which will help support her.
There are many reasons caregivers may use the crisis nursery, such as loss of a home, drug or alcohol rehabilitation, loss of utilities, or emergency hospital stays. At all times, children are cared for by trained and dedicated staff members. At Isabel's House, children attend school; play games; create art projects; have computer and library time; and much more. They are fed nutritious, family-style meals and enjoy a good night's sleep.
Since we opened in 2007, we have cared for 2845 children, keeping them safe while their parents are working through their crisis. The support we provide ultimately prevents child abuse and keeps families together. We have a 93% success rate of stabilizing the family!
Thanks to the generosity of the HBA Remodeler's Council and the HBA Home Remodeling Show for supporting Isabel's House through the donation of the playhouse. For more information, please contact Linda Becker, Development Director, at (417) 865-2273.