Help Celebrate Salute to Construction – October 28 – November 8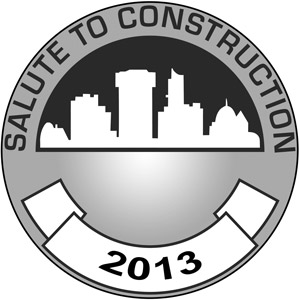 The 2013 Salute to Construction celebration begins with the Kick-Off Mixer & Proclamation Ceremony on Tuesday, October 29th at Farmer's Park (4pm-6pm). Guided tours (hard hats required) will be available and the Ceremony begins at 5pm. What a great opportunity to tour Farmer's Park and help celebrate the construction industry!
Other activities that are part of Salute to Construction include:
The annual Salute Photo Contest (deadline changed to October 11): Click here for the official rules and regulations. This is your opportunity to choose your best shots and enter the contest. Did you take a great photo of "Faces in Construction" in the last year? What about that fantastic photo of a "Place in Construction"? Winning photos will be published in the Salute issue of the Springfield Business Journal and there will be CASH prizes!
Career Days Speakers will visit area high schools and middle schools during the two weeks of Salute 2013, as well as throughout the school year. This is your opportunity to help promote the construction industry as a career. Call or email Kathy Baer at the Springfield Contractors Association (417.862.1313 or kathysca67@gmail.com) to volunteer. Kathy will work with your schedule and help find the best opportunity for you to promote the construction industry!
The Annual Awards Banquet will cap Salute 2013 activities on Thursday, November 7th in the Ramada Oasis Grand Ballroom. Jennifer Jackson, publisher of the Springfield Business Journal, will serve as the emcee this year. The 25 sponsoring organizations (including the HBA Charitable Foundation) will recognize scholarship students and present awards. The tickets are $30 each.
The Home Builders Association and the HBA Charitable Foundation are proud to be part of the annual Salute to Construction celebration. We hope all of our members will take advantage of this opportunity to participate in some way. Please feel free to call or email Charlyce Ruth (417.881.3711 or Char@SpringfieldHBA.com) for more information.
Download forms below: