HBACF Mini-Golf Roundup – Sponsored by Federal Protection
There may still be a little snow on the ground, but the mini golf course is clear!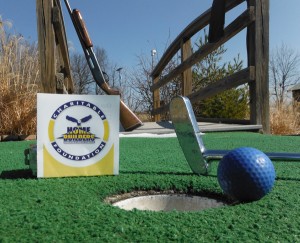 That's right – the HBA Charitable Foundation (HBACF) Mini Golf Event is just around the corner!  This year's event is Tuesday, June 24th. We are proud to announce that Federal Protection, Inc. is the Event sponsor and Metro Appliances & More is the Longest Drive Simulator sponsor.
Funds raised during the HBACF Mini Golf Event are used to provide scholarships and departmental grants to OTC and MSU construction and interior design students. The HBACF has also provided HBA members scholarship opportunities to pursue NAHB designations and continuing education.
Act now to get your company logo branded into the brains of approximately 144 mini golf players by sponsoring a hole for only $99!
This is also your first chance to sign up to play mini golf. Individual players are $25 each or sign up a team of 4 for only $95! The fee includes mini golf and dinner. Make sure you bring along your cheering squad as well – they can enjoy dinner with you for $15/person, then follow you on the course and cheer you on to victory!
Contact the HBA office at 417.881.3711 or Char@SpringfieldHBA.com today with any questions or to sign up for the event. Don't forget to pick the tee time that works best for you when filling out the form (early tee time is 5:30pm and late tee time is 7:00pm). The sooner you sign up the better your odds of getting the tee time you prefer.
We will see you at the mini golf course on June 24th – make sure you're ready for the official shotgun start!!
We look forward to seeing you, your staff and your family at the HBACF Mini Golf Event!
BTW – If it snows in June the course will still be clear 🙂
Event Details:
TUESDAY, June 24, 2014
5:30 pm – 8:30 pm
Swing Right Golf – 444 East Farm Road 192 – Springfield, MO 65810

THIS JUST IN…
The HBACF is bringing back the Belt Sander Races in 2014. GET YOUR BELT SANDERS READY TO RUMBLE AND ASK ABOUT SPONSORSHIP OPPORTUNITIES. See video below. Sign up coming very soon…..