HBACF 5K Run/Walk – March Update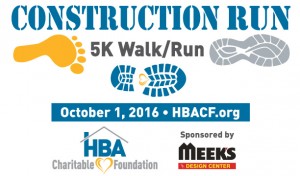 The HBA Charitable Foundation (HBACF) will be conducting its first Construction Run on Saturday, October 1, 2016. The Construction Run will be a family oriented 5K run/walk, featuring a kids race and fun area.  The kid's area is scheduled to kick off at noon, with the official race time to start at 1:00 pm.
This event will be the primary fundraising event for the HBACF this year, raising funds for the annual scholarships to MSU and OTC Construction and Interior Design students, departmental grants to MSU and OTC, the Smoke Alarm Give Away, and support for Habitat for Humanity.
The HBACF is currently looking for sponsors for the following sponsorship levels:
Logo on T-shirt
Logo on all Electronic Advertising
Logo on Quarter Mile Markers
Vendor Space at Event
Various Signage at Event
Miscellaneous Community Advertising when Available
Logo on T-shirt
Logo on Electronic Advertising
Various Signage at Event
Name on Banner at Event
Logo on Electronic Advertising
Current Sponsors as of March 17, 2016
Sponsorships are a great need to make this event a success and would be greatly appreciated. The HBACF will also be looking for items to place in the race day swag bags.  If you have interest in becoming a sponsor or swag bag contributor please contact Charlyce Ruth at the HBA (Char@SpringfieldHBA.com or 417.881.3711).
This event is designed to for the whole family to enjoy and all fitness levels are welcome!  We will provide further details about registration soon and we all know to watch out for the well trained Matt Bailey.