HBA Sponsorship & Marketing Opportunities
Click button to unveil discounts and more . . .
TOP 5 REASONS TO BUNDLE & Utilize HBA Marketing Resources:
A LA CARTE bundling with UP TO 12% DISCOUNT. EXAMPLE: Spend between $1,675 & $3,144 take 10% off your total. Pick your target level, on the next page, and start tossing the products in your cart.
Your marketing and sponsorship efforts also help to increase the value and community perception of your Home Builders Association of Greater Springfield. For that - we want to extend a genuine THANK YOU!
Marketing/Sponsorship Samples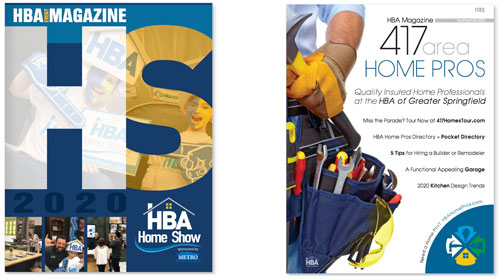 Partnering with 417 Magazine in 2021 – Learn More… The HBA Magazine has a strong niche and great shelf life based on recent research conducted by ADSmith Communications. It was found that those who attend HBA Home Show typically hold…
MORE ABOUT THIS MARKETING OPPORTUNITY