HBA Partners with BBB to Strengthen & Streamline Membership Requirements
Staff Report 04/30/2012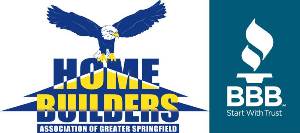 The Home Builders Association of Greater Springfield announced today that it has updated its list of qualifications required for companies that wish to join the southwest Missouri professional trade association of builders, remodelers and associates.
The HBA of Greater Springfield is working in cooperation with the Better Business Bureau of Southwest Missouri to ensure that a standard of professional business conduct is consistently upheld. Effective immediately, the HBA of Greater Springfield will require that all new applicants for HBA membership hold a rating of "B" or higher from the Better Business Bureau, in order to qualify for membership.
The new requirement provides unprecedented protection for the HBA's renowned standard of professionalism by establishing greater consistency, accountability, and third-party credibility. This marks the first time in the history of the HBA that an independent third party consumer protection organization will be used as a threshold to qualify for HBA membership.
HBA CEO Matt Morrow says the BBB partnership should give consumers even greater confidence when doing business with a member of the Home Builders Association.
"Setting the standard for professionalism in the residential construction industry has long been a priority for the HBA of Greater Springfield," Morrow said. "Requiring an acceptable rating from the BBB means our members will be subject to thorough, regular review of their ability to consistently satisfy their customers."
The new arrangement is good news for more than just consumers. The Better Business Bureau consistently and effectively upholds many of the priorities the HBA of Greater Springfield, over the years, has attempted to replicate in what had been a growing list of HBA membership requirements.
"Because the BBB systematically evaluates many of the very same standards the HBA seeks to uphold, requiring an acceptable BBB rating really streamlines our application process," Morrow added. "For a good, reputable business, the process to join the HBA of Greater Springfield should now be simpler than ever."
Over the years, in an effort to protect and uphold a professional standard in the industry, a variety of new application requirements gradually were added to the HBA's membership process. Eventually, the list of HBA membership requirements became complex and confusing. As it turns out, most priorities these requirements sought to protect already are part of what constitute a business's BBB rating.
Now, the process to join the HBA is much simpler (view the updated HBA Membership Application). To become a member of the HBA of Greater Springfield, all applicable dues and fees must be paid, and:
Applicant must have an HBA member "sponsor" for their application;
Applicant must produce proof of current workers compensation and general liability insurance coverage; and
Applicant must hold a rating of "B" or higher from the Better Business Bureau (if the applicant does not yet have a rating from BBB, they may complete the BBB Standard Business Questionnaire to receive one).
About the HBA of Greater Springfield
The Home Builders Association of Greater Springfield is the voice and advocate for construction professionals leading the way to protect and promote housing, and preserve the American dream of home ownership. The HBA is a professional trade association whose members are committed to ethical business practices, the highest construction standards, the education of its members and the community. The HBA serves as the chief advocacy voice for the residential construction and remodeling industries.
Why Join the HBA of Greater Springfield: https://dev.springfieldhba.com/membership/whyjoin/
How to Join the HBA of Greater Springfield: https://dev.springfieldhba.com/membership/how-to-join/
About the Better Business Bureau
BBB is the authority on trust in the marketplace.  BBB sets and upholds high standards for ethical marketplace behavior.  BBB is the preeminent resource to turn to for objective, unbiased information on businesses and charities.  BBB Reliability Reports and BBB Wise Giving Reports help consumers make the right purchasing or donation decision.  BBB is also a significant distributor of consumer and business education information and tips and alerts about marketplace scams.  And BBB offers dispute resolution programs for consumers and businesses when there is difference in viewpoints.
What is a BBB "rating?"
Better Business Bureau "ratings" evaluate businesses in a variety of measures of professionalism, including years in business, current available contact information, complaints received/responded/resolved, criminal record, civil judgments, etc. If a business has no BBB history, the business may have no rating. Any business is eligible to receive and maintain a BBB rating. To be listed with a rating, a business must complete the BBB's Standard Business Questionnaire (SBQ), which they also can obtain along with their HBA membership application. For full explanation of BBB ratings, rating criteria, etc, see: http://www.bbb.org/business-reviews/ratings/.
More Questions? Check out this helpful Q&A on HBA Membership Application Requirements document.