HBA Parade of Homes was a Statistical Success & "Loved" by Visitors
With 14 homes on Parade this year there were many exciting and beautiful things to see. People came from all over to plan out home dreams and talk with HBA Parade Builders.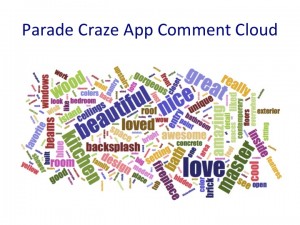 As you can see from the Visitor Comment Word Cloud, the HBA Parade of Homes was Beautiful, Nice, Great and Loved.
If you don't already know, it is the 60th Anniversary of the HBA of Greater Springfield and the first Parade, back in 1954, was a single home built by a collaboration of builders. In this span of time there has never been a reliable method instituted for tracking the number of visitors, but with the new Parade Craze App we were able to track the number of visitors, how many times visitors returned to a home, what days homes received the most visitors and much more (see stats below). Even though the statistics are not 100% accurate it will provide valuable information for your HBA as well as the HBA Parade Builders.
For the HBA Parade Builders, the contact information that was gathered will likely prove to be the biggest incentive for being in the 2015 HBA Parade of Homes. This contact information will also be useful to all HBA Members through our new HBA Home Pros Info e-Newsletter where HBA Members will be supplying the content.
We would be neglectful if we did not thank the HBA Parade of Homes Prize Sponsor – Missouri Propane Education and Research Council as well as ALL THE SPECTACULAR VOLUNTEERS!!! If we left out your name below please let us know. Some volunteers went above and beyond we want to send out a special thank you to you. You know who you are.
Volunteers:
Matt Bailey
Kayla Baldwin
Cece Barr
Michael Bauer
Stan Bess
Joe & Linda Bex
Patti Bloxom
Sherri Bollinger
Wes Brown
Sherry Carney
John Cates
Erin Clark
Doug Collins
Dan Crutcher
Deb Demanche
Beth Doles
Stacy Duncan
Toni Ellers
Zach Estep
Lisa Estes
Rebecca Facas
Randy Friga
Ina Gladkov
Brett Heintz
Terri Herman
Chris Houghton
Barbara Houser
Kim Hurshman
Mitchell Jenkins
JP Jones
Dana Kessack
Gail King
Rory & Mindy Krueger
Greg Lafferty
Raymond LaRue
Alexandra Lilly
Tom & Linda Little
Tammy Long
Bernadean McAfee
Sue McConnell
Crissandra McCormack
Rodney Messenger
Tina Mitchell
Elaine Montgomery
Debi Murray
Kerry Norman
Kathy O'Neil
Lacy Pattyson
Terron Paul
Laura Peterson
April Planck
Jan Preston
Corey Puett
Brian Ranft
Lisa Rayl
Joyce Redmon
Linda Revoir
Nicole Ritter
Michelle Romero
Amber Schnake
Andrew Semple
Sarah Shelton
Scott Shortt
Crystal Shotts
Greg Sitzes
Celeste Skidmore
Johnny Smith
Linda Smith
Debbie Speake
Jim Squires
Dani Stoddard
Sandy Strecker
Russ Tidlund
John Tranbarger
Kristy Vandekerhove
Rose Vinson
Mary Warner
Lyvia Wehner
Shelley Wehner
Jeff Widmeyer
Jamie Wightman
Kellie Wilson
Kay Wylie
Sandi Zwingle
THANK YOU for making this a successful HBA Parade of Homes!
[portfolio_slideshow id=22834 centered=true duration=200]