HBA Parade of Homes Opens Friday, Featuring Fresh Ideas and Variety!
The 2012 HBA Parade of Homes opens this Friday, June 15, featuring a strong mix of both custom and spec homes in a number of price points. The event is the 59th annual HBA Parade of Homes, and it runs for two full weekends, June 15-17 and June 22-24: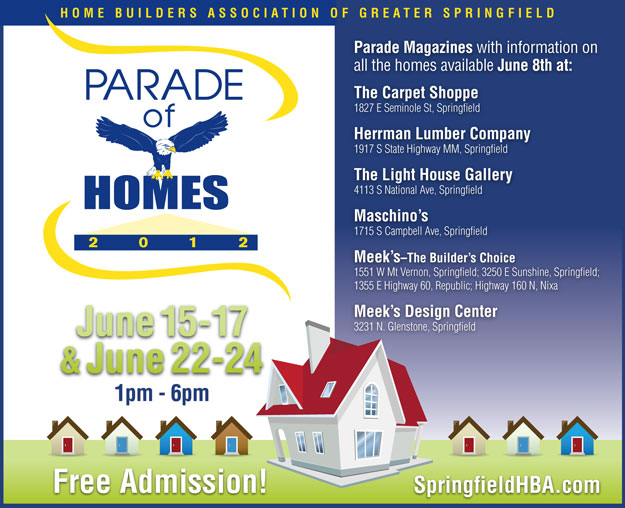 "Builders continue to offer incredible craftsmanship, value and innovation in both design and construction in our area — and they can do it in every price point," said HBA CEO Matt Morrow. "The Parade also offers the opportunity to see at a micro-level, the very real economic impact that housing makes on job creation, income generation and providing revenue in the form of fees and charges for local governments. While some people see new homes being built and contend that the cost of this kind of growth is prohibitive to the public, recent studies of our market have found that housing pays for itself here within two years. And, it continues to generate revenue and jobs for the long term, well after the construction is completed."
Morrow pointed to a recently released Local Economic Impact of Housing study conducted by Dr. Elliot Eisenberg, NAHB Senior Economist, for the Springfield MSA. The study found that every 938 single-family homes built in the Springfield MSA in 2010 will generate a cumulative $109.1 million in revenue, compared to only $93.0 million in costs over the next 15 years. That makes keeping housing as affordable as possible important to everyone.
"These numbers reveal how significant home building and home ownership are to our local economy," Morrow said. "The Parade highlights not only the best work of some of our member builders, it also reinforces the huge impact the industry has on our overall economic health and job creation."
Since home building is so important to the overall economy, controlling unnecessary costs in the building process is vitally important. Of the four components that go into calculating the final price of a new home (land, labor, materials, and governmental regulatory costs), governmental costs are far and away the most rapidly increasing segment of the overall home cost. In fact, many of those costs are incurred before any work is done on the house.
To help home buyers and builders compare and contrast the widely varied local costs incurred before the construction process begins, the HBA of Greater Springfield recently launched a new web tool: LookB4UBuild. Visitors to lookb4ubuild.com can compare and contrast the various fees and inspection processes in more than 60 city and county governments throughout the association's ten-county service area in southwest Missouri.
The new tool identifies some real hurdles to getting started. The HBA Parade of Homes shows the excitement that awaits at the other end (completion) of the process.
Among the 13 entries in the 2012 Parade, visitors will see tremendous diversity — there's everything from homes built for active adults with an "empty nest", a quality-built 3-bedroom home for under $123,000, to a one-of-a-kind custom home overlooking the James River Valley.
WHAT?          The 2012 HBA Parade of Homes
WHEN?          June 15-17 and June 22-24.
TIME?            Homes are open from 1 to 6 pm.
WHERE?       Springfield/Greene County area, Nixa, Ozark and Battlefield
COST?            The Parade of Homes is a FREE event
Anyone wishing to view Parade Homes may PICK UP FREE PARADE EVENT MAGAZINES (featuring Parade homes, maps/directions to homes, etc.) at the following locations: The Carpet Shoppe (1827 E. Seminole St., Springfield), Herrman Lumber Co. (1917 S. State Hwy MM, Springfield), The Light House Gallery (4113 S. National Ave, Springfield), Maschino's (1715 S. Campbell Ave, Springfield), Meek's – The Builder's Choice (1551 W. Mt. Vernon, Springfield;  3231 N. Glenstone, Springfield; 3250 E. Sunshine, Springfield; 1355 E. Highway 60, Republic; and Highway 160 N, Nixa.
MORE INFORMATION:    Download more detail about homes, addresses, maps to homes
PARADE ENTRIES: