HBA Membership Directory to Launch Soon!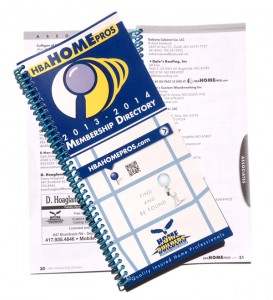 The launch date for the new HBA Membership Directory is right around the corner!
Is your information in our database correct? Have you relocated, changed your phone numbers or contact person? Would you like to place an ad? Deadline has been extended until April 17th (click to add to your calendar).
If you have not seen an HBA Membership Directory, from previous years, please stop by the office to pick up a 2013-2014 copy. This compact directory has been a useful tool for HBA Members for many years and it continues to evolve with more helpful information as well as connecting it to the HBAHomePros.com online membership search tool.
Sometimes a simple printed directory is more useful than searching on your phone or tablet to find an HBA Member, but there are times that you are looking for a newer member that might not be in the annual publication. Both the online and printed directory serve a purpose and both have advertising opportunities available. Place an ad in the printed HBA Membership Directory and you can also take advantage of a BONUS ad on HBAHomePros.com. This year, those who are  Featured Member Advertisers will have their web address listed in the printed directory as well as an HBA Home Pros Web Link. Contact Aaron for more details.


Don't forget to check your information because after it prints you will have to wait until next March to make any changes. The online HBAHomePros.com database is updated weekly, so if anything changes throughout the year please let us know. Email Aaron@SpringfieldHBA.com or call 881.3711.
The HBA Membership Directory Launch Party will be held at Southern Supply and Southern Materials. See the FUN details below as you go from Saloon to the Stars.
While you are signing up for the May Directory Launch Party, be sure to sign up for the April HBA Networking event at Midwest Block and Brick OR click here for more details).
What is HBAHomePros.com? The URL in question is simply a direct link to the online membership directory housed at SpringfieldHBA.com.
Why not just send people to SpringfieldHBA.com? The shortest distance between two points (you and information) is a straight line. It was set up to simplify the process for you and for the general public searching for a Quality Insured Home Professional.