HBA Magazine Partners with 417 Magazine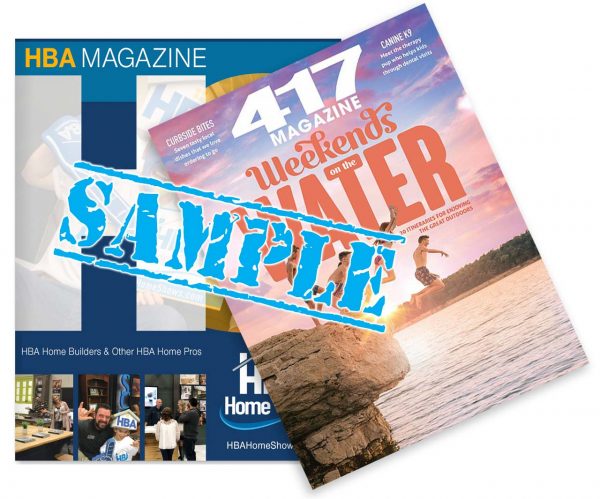 The HBA Magazine has been a community resource for HBA events, such as the Home Show & Parade of Homes, for many years. Recently the HBA Magazine has expanded its reach beyond HBA events through distribution by HBA members (showrooms and businesses), as well as area Chambers, Springfield Visitors Center, Multiple City Offices, Price Cutters, Harter Houses, Apple Markets and more. Although this increased distribution is great, we feel that the information within the HBA Magazine deserves to be shared even further.
---
HBA Magazine to 5,000 417 Magazine Subscribers
---
Beginning April of 2021 your HBA Magazine will be distributed, alongside the 417 Magazine - May Issue, to 5,000 select 417 Magazine subscribers. This means that in addition to the 5,000 HBA Magazines that will be distributed via the Home Show, Parade of Homes, its members and existing partners, there will be distribution of 5,000 HBA Magazines to 417 Magazine subscribers. A total of 10,000 HBA Magazines will be distributed to potential readers.
Place Your Ad in the 2021 HBA Magazine! Contact Aaron or Dori ASAP at 417-881-3711 or send a message below.
Missed the 2021 Discount Bundle? Ask about a 2021 Bundle Today!
This publication was also distributed at the HBA Home Show on May 7-9, 2021.