HBA Home Show 2021 Update
In order to keep vendors informed and safe this year we will be posting important information at the bottom of the Home Show Vendor Information page. Please visit the page and familiarize yourself with the setup. Thank you!
HBA Home Show has been Rescheduled for May 7-9, 2021 for the health and safety of our visitors, vendors and volunteers.
• Sign up for a Booth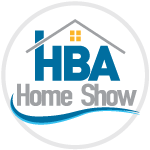 If you have not registered for a Home Show booth and would like to - now is the time! In order to appear in the Home Show magazine you will need to be registered no later than April 1st. If you need assistance registering for a booth call or email Lisa Phillips (hbagsevents@gmail.com) or call 417.881.3711 for more information.
• Volunteer for the Home Show
Each year we are blessed to have members that are willing to lend a helping hand and due to the size of the Home Show, we need a lot of hands. We have various opportunities to volunteer throughout the week of Home Show and would appreciate any assistance. On behalf of everyone at the HBA we want to thank you in advance for volunteering your time during the Home Show. If you want to sign up to volunteer please call 417.881.3711. We will soon have a sign up created on SignUpGenius. Be looking for that on the HBA Home Show Vendor Info page.
• Home Show Set-Up
If you have not received an email regarding set-up times, give us a call if you need to schedule dock time. Scheduling a dock time will create a smoother and productive set-up, making it easier for everybody! HBA Home Show set up times are: Tuesday (May 4th) 8am-5pm, Wednesday (May 5th) 8am-8pm and Thursday (May 6th) 8am-8pm.
• Home Show/Booth Etiquette
Making connections and talking to visitors is key in getting the most out of the HBA Home Show. This is a non-selling show meaning no products can be sold AND no money or credit card information can be collected. Being present and available at the HBA Home Show will be beneficial to you, being friendly and having inviting body language is what you and your booth staff should aim for!
• Help Promote
Help us promote and advertise for the Home Show by posting on social media sites! Promotional digital materials will be available on the Home Show page around the first week in April.
• A Big Shout-Out to the Home Show Event Sponsors