HBA Home Show 2018 a Big Success!
The 2018 HBA Home Show was a huge success!  More than 10,000 people learned new things, discovered the latest technology and found HBA Home Pros for all their building, renovation and repair needs! Hopefully you've had a chance to rest up and follow-up on the leads you received at the event. 
Home Show Photos near the bottom of this post!
Here is what a few of our vendors had to say:
---
 "Home Show attendees are ready and able to purchase. We have been very happy with the exposure to good clients and it seems to get better every year we participate."
– Andrew Peterson, Buster Crabbe Pools, Inc.
---
"Show was well attended. We were pleased with the amount of positive traffic and the ability to visit with potential clientele in a friendly atmosphere."
– Ronnie Gadberry, Southwest Stone Supply
---
"The Home Show is an excellent opportunity to get your business in front of potential customers in a relaxed atmosphere."
– Travis Fultz, Sunbelt Solar
---
"I do feel that the leads I received while at the HBA show will result in some quality business for my company."
– Aaron Wyssmann, The Property Doctors
---
"The Greater Springfield HBA Home Show is a quality show that is attended by those in the area that are looking to build or remodel. What better place to come and be able to compare all the aspects you need for a successful build or remodel."
– Amber Schnake, FamilySAFE Storm Shelters
---
"What a great environment! Attentive HBA staff, friendly volunteers, interesting vendors, and happy consumers! We will definitely be back!"
– Carrie Gratton, Glennstone Roofing and Gutters
---
"The HBA Home Show has always brought more recognition and actual jobs to my business than most other ways. The group of vendors around you are PROFESSIONALS, which makes for a very enjoyable show. We will have a booth in the show again next year and I believe that will be our 17th time"
– Bryan Tidwell, Tidwell Concrete, Inc
---
"Our first time at the Springfield Home Builders Show was a tremendous success! I was pleasantly surprised at the distances attendee's were willing to travel to come to the show and the phone began ringing the very next day after the show was over."
– Chuck Fyock, Fyock Home Design
---
"Thank you for your hard work. You are the best in the business."
– Henry Novack, St. Clair of the Ozarks
---
THANK YOU to all the vendors, sponsors and volunteers – you are an integral part of our success!
VOLUNTEERS:
SPONSORS:
EVENT SPONSOR:
BAG SPONSOR:
PRIZE SPONSOR:

VENDOR LOUNGE SPONSOR:
---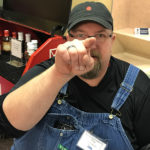 2018 HBA HOME SHOW PHOTOS
---
The HBA Event Magazine – Home Show Edition
The digital HBA Event Magazine will continue to be displayed on the home page of HBASpringfield.com for the next few months. Please open it up and see what's inside. Thank you advertisers for making this a wonderful year for the magazine!