HBA Family Christmas Party – Convoy of Hope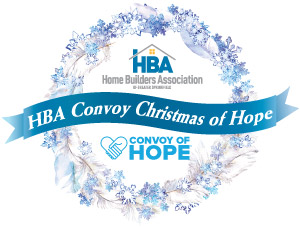 As the sound of Jingle Bells begins throughout the Ozarks, it is time again for the HBA Membership to join together for our Annual HBA Family Christmas Party!  We are doing things a little different this year. We will be joining together at Convoy of Hope for a time to visit, eat, and to give back to the community of Springfield with some volunteer time.
When:  Tuesday, December 15th, 5:30pm – 8:00pm
Where:  Convoy of Hope – 330 S. Patterson Ave. 
What a great time to say thank you to our great community and also to show our thanks and appreciation to all those who served in 2015 and to those volunteering their time as elected officials for 2015 with the HBA!  With a New Year on the horizon, brings with it a new HBA Board of Directors to be inducted as well.
RSVP now for the 2015 HBA Family Christmas Party, Tuesday, December 15th. Enjoy friends and fellow members of the HBA as we celebrate Christmas, enjoy wonderful food and recognize our award winners.
We will begin the evening at 5:30 with a tour of Convoy of Hope (this tour is optional).
Dinner will be served at 6:00 followed by announcements and recognition's.
At 7:00 we will begin our "bagging of pasta" volunteer project with the Convoy of Hope.   In order to volunteer there are some requirements, so please read below and plan accordingly:
You must wear close-toed shoes
We will be working in a warehouse – make sure to wear jeans and dress in layers, it will be cold in the warehouse.  This is not a dressy event.
We will be working on concrete floors – so dress comfortably.
You are more than welcome to bring your children but they must be at least 10 years of age.

10-12 year olds must be with a parent/legal guardian
13-18 year olds may come with out a parent/legal guardian
All ages must have a signed release form, under 18 must be signed by a parent/legal guardian.  Click here to download the release form.
RSVP to Jamie@SpringfieldHBA.com or call 417.881.3711 to make your reservations now.  Cost is $5 per person to attend.  Please remember to download (click here to download), complete, and bring with you the release form.
Shoot some 5-8 second videos at this event and we will use them in our wrap-up video. Also, post photos and video of this event on social media using the hashtag #HBAHomePros. Send photos and video to Aaron@HBASpringfield.com