HBA Corn Madness Cornhole Tournament 2018 – A Corny Time Was Had By All
Addie Ferber 03/21/2018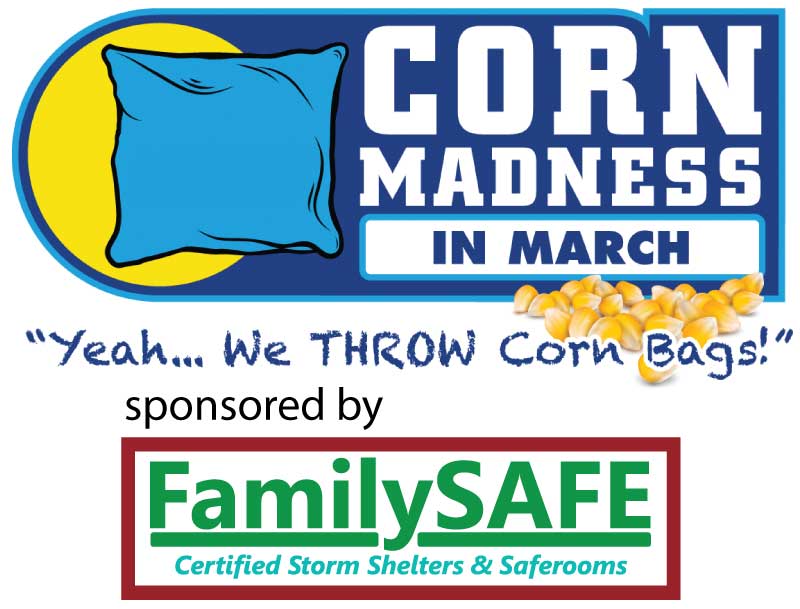 They came, they saw, they threw corn bags! The annual HBA Corn Madness Tournament, sponsored and hosted by FamilySAFE in Republic, brought nearly 100 HBA Members together for food, fun and games. Click here to see pictures from this year's event! Teams new and old battled it out on the boards to see who could take home the gold (a.k.a. mini corn boards and gift cards). It was a hard-fought, dusty battle, but in the end one team squeaked out a win in the Championship Bracket. WATCH VIDEO BELOW!!!
---
Championship Bracket Winners
1st Place - Congratulations to three-time champions, Mike Benna - Meek's Design Center and Aaron Wahlquist - HBA
2nd Place - Garry Mitchell & Eric Smith - Southern Supply
3rd Place - Klayton Labby & Sam Lock - Midwest Block - Team 1
As we all know, being the best is not the only way to win at HBA Corn Madness. Being a loser can pay off in a big way, too! Congratulations to our Grand Champions in The Biggest Loser bracket. You may not be the best, but you're the best of the worst and that's better than nothing at all.
Biggest Loser Champions - Dan Crutcher & Denise Perry - Federal Protection
The evening also featured a fun Pop-A-Shot game, sponsored by Brookline Doorworks, featuring great prizes! Our Pop-A-Shot winners were:
1st Place - Score of 25 - Aaron Wahlquist
2nd Place - Score of 22 - Alex Hall
3rd Place - Score of 19 - Pedro Figueroa
ENJOY THIS SHORT VIDEO!!!
The HBA Charitable Foundation sold 50/50 tickets at the event and would like to thank everyone who purchased tickets for this great cause! Debbie Speake from Springfield Electric was a ticket selling MACHINE! The HBACF was able to raise $140 due to your generosity and Garry Mitchell from Southern Supply walked away a winner!
As always a HUGE THANK YOU to our wonderful Event Sponsor, FamilySAFE! You all are so appreciated for coordinating and hosting this fantastic event!
And a special Thank You to all the sponsors who helped make it happen:
Dinner Sponsor - Guaranty Bank
Keg Sponsor - Robbins Create & Construct
Prize Sponsors - Great American Title & Wildman Plumbing
Bracket Board Sponsor - ColorGraphic Printing
Pop A Shot Sponsor - Brookline Doorworks