Gutter Installer – Southwestern Professional Exteriors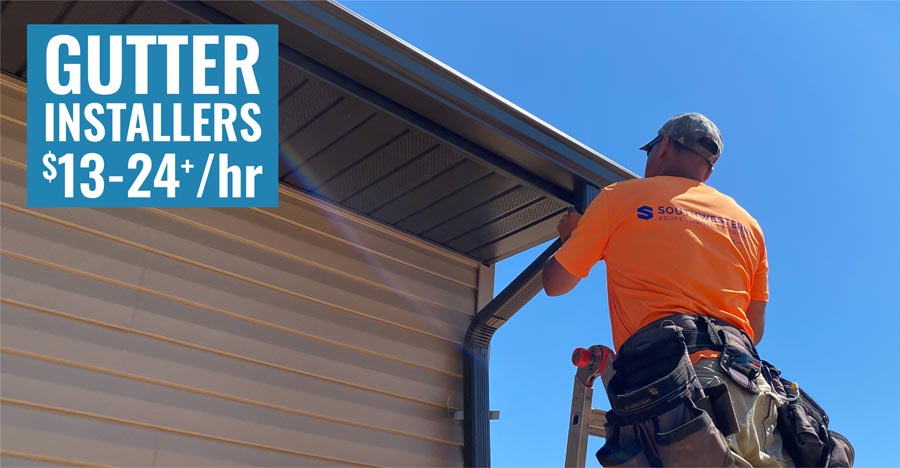 Do you enjoy working outside and making good money? Do you have, or want to have construction experience? Southwestern Professional Exteriors is seeking a Seamless Guttering Installation Technician for residential and commercial applications, both new and retro-fit applications. This position requires the ability to perform the job duties and to understand and follow installation procedures. Guaranteed hourly training wage for first 8 weeks. We will train you.
Responsibilities:
• Install seamless rainware (gutter and downspouts), gutter apron, and drip edge on new or retrofit applications.
• Install splash blocks and leaf guards when required.
• Record material and labor on work orders daily, maintain vehicle records and pay sheets daily.
• Maintain cleanliness of job site, company vehicle, and warehouse.
• Perform additional duties as assigned by Management or Team Members.
• Prompt and reliable attendance is required.
Qualifications:
• Knowledge of construction and/or home improvement industry.
• Knowledge of construction and installation machines and tools, including their uses, repair, and maintenance.
• Knowledge of basic mathematics to solve problems.
• Skill in the use of installation equipment, machines, and tools, including their uses, repair, and maintenance.
• Skill in inspecting products, services, or process to evaluate quality and performance.
• Skill in understanding written instructions, processes and procedures.
• Skill in active listening – providing full attention to instructions, asking questions when needed, and understanding and following procedures.
• Skill in using knowledge and reasoning to identify strengths and weaknesses of alternative solutions, conclusions, or approaches to problems.
• Ability to perform physical activities that require considerable use of arms, legs, and movement of entire body such as climbing, lifting, balancing, walking, stooping, and handling materials.
• Ability to operate form, scissor and boom lift.
• Ability to communicate professionally with coworkers and customers.
• Ability to observe, receive, and obtain information from all relevant sources to perform job functions.
• Ability to use personal protective equipment (PPE) for extended periods of time.
• MUST have a valid driver's license to drive company vehicle.
Compensation
We're committed to great paying construction jobs. Our Seamless Guttering Installation Technicians can make between $13-16/hour for entry level, and lead installers can make $16-24+/hour. Compensation is directly tied to production.
Benefits
• Medical Insurance
• Dental Insurance
• Vision Insurance
• 401k
• Paid Vacation
• Competitive Pay
• On the Job Training
• Opportunity for Growth and Advancement
Position requires a Drug Screening and Background check to drive a company vehicle. This is to be completed prior to employment.
MUST HAVE VALID DRIVERS LICENSE AND CLEAN DRIVING RECORD
To apply, please send a resume to recruiting@g5ec.com