Greene County Posts Public Hearings for 2012 Code Adoption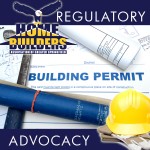 Throughout 2012, your Regulatory Advocacy Committee has been meeting with code officials throughout the region regarding adoption of the 2012 International Residential Code. One of our top priorities has been discussion regarding the cost effectiveness of the new energy chapter requirements of the 2012 IRC. Many jurisdictions have been very responsive to amending out the 2012 energy chapter and keeping the '06 requirements on the books.
In Greene County, the Building Commission will conduct hearings regarding adoption of the 2011 National Electrical Code, 2012 International Codes and amendments for Residential, Building, Plumbing, Mechanical and Gas and amendments to the Administrative Code.  The first hearing will be on Friday, November 16, 2012, a second hearing on Tuesday, November 20, 2012 and a third hearing on Tuesday, November 27, 2012.  All hearings will start at 11:00 A.M. in Room 212 of the Historic Courthouse, 940 Boonville, Springfield, Missouri.  Meetings are open to the public. The HBA will have representatives attending the hearings on your behalf.
Greene County is planning to amend out the 2012 energy code chapter and will keep the '06 requirements instead. This will result in a considerable savings related to a non-life safety area of the code – $8,072 saved per home in our climate region based on a recently published study of the National Association of Home Builders' Research Center, "2012 IECC Cost Effectiveness Analysis". The analysis examined both the incremental construction cost of compliance with the 2012 energy code and the cost savings/payback period, compared with the 2006 code. See chart below – we are in climate area 4. (To request a full copy of the analysis, email jennifer@springfieldhba.com.)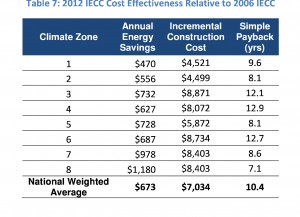 It is the position of this HBA that residential building codes work best when they are precisely focused on what they exist to do: protect basic life safety of occupants. To the extent they are used to advance other goals, including energy efficiency or an insurance industry objective to preserve structures, basic life safety and purchasable affordability suffer – trapping more and more people in the only homes they can still afford to buy/rent  – the older, least efficient, least safe homes.