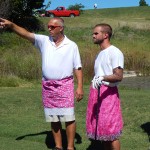 Get your golf clubs out of the attic, for those that don't keep them in your trunk year around, and sign up for the 2014 HBA Spring Golf Tournament. The Two-Person Scramble begins at 1pm on Monday, May 5th with a Shotgun Start.

With the crazy winter we had you should probably sign up ASAP before all the slots are filled. We suspect there might be a little Spring Fever going around.

Email or call Emily at 881.3711.
Thank you to those that have already signed up to play and a BIG Thank You to these sponsors:
GOODY CART SPONSOR
Dale's Roofing, Inc.
Great Southern Bank
Springfield Ready Mix Co.
Titan Propane
CLOSEST TO THE HOLE SPONSORS
DJ Roofing Supply, Inc.
Screenmobile
Southern Supply Co.
Springfield First Community Bank
LONGEST DRIVE SPONSORS
Acme Brick Company
Brookline Doorworks
Cabinet Concepts by Design
Commerce Bank
Empire Bank
Great American Title
Meek's – The Builder's Choice
Peoples Bank of the Ozarks
$10,000 CASH 1ST HOLE-IN-ONE #15
HOLE SPONSORS
ADsmith Marketing & Advertising
Alside
American Glass
Arrowhead Building Supply
Atlas Security
Basement & Foundation Repair of the Ozarks
Cabinet Concepts by Design
Edge Supply Company
FamilySAFE
Great Southern Bank
Guaranty Bank
Hogan Land Title Co
The Light House Gallery
Murney Associates, Realtors
P.E.P. Waterproofing, LLC (2 Holes)
RenewCrew
Signature Home Comfort Heating & Air
Simmons First National Bank
Southwestern Insulation, LLC
Springfield Business Journal
Titan Propane
Unique Tile, LTD
Vermillion Hardwood Flooring
Waste Corporation of America (2 Holes)
Wildman Plumbing (2 Holes)
Event Details:
Monday, MAY 5, 2014
11:30 am – 6:00 pm
Millwood Golf Course
3700 E. Millwood Drive – 65721