Give Ozarks Day – 5.5.15 – Habitat for Humanity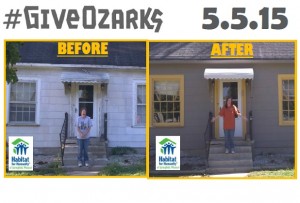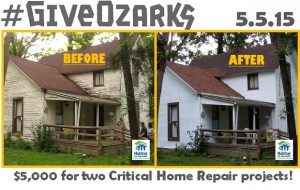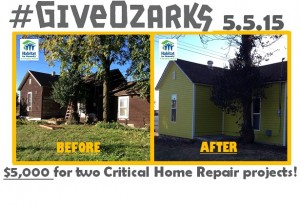 Habitat for Humanity of Springfield, MO (HFHS) is participating in the first-ever Give Ozarks 24-hour online day of giving on May 5, 2015 with a goal of raising $5,000 in twenty-four hours. All funds raised on Give Ozarks Day will support two Critical Home Repair projects.
Critical Home Repair (CHR) provides extensive interior or exterior repair projects to alleviate critical health, life and safety. Projects can include replacing doors, windows and siding, attic insulation, bathroom modifications and roof repair or replacement. All CHR projects are provided to our partner homeowners with a 0% repayable loan with up to a 5 year repayment term. All funding for CHR projects are 100% sustainable as the loan payments fund the next CHR project.
When Kathryn first applied for the CHR program, she was looking for an affordable solution to fix her drafty windows and doors. After the initial consultation made by the Habitat for Humanity construction team, it was immediately apparent more extensive repairs were needed. In the end, Kathryn's home received new framing, added insulation, replacement of drafty windows and doors, and repair to the roof.
The repairs to Kathryn's home cost $2,500 which is 1/3 the cost if the services were provided by a third-party contractor. The CHR program will allow Kathryn to repay the 0% interest loan through affordable monthly payments which will in turn fund the next CHR project.
To support HFHS on Give Ozarks day, you can make a donation online, share social media posts, and help get the word out to the community about our campaign.