Stand out with an Enhanced Profile+
Enhanced Profile+ (formerly called Featured Member Ad Package - FMAP).
$150 per year
Includes:
Logo or small ad (225x150px)
Link to website
Social media links
Ad at the bottom of the HBA home page (225x150px)
Your enhanced profile page (like a micro-site) (click here for more details)
See all the benefits below and visit visit the HBA Home Pros Listings.
Enhanced HBA Home Pros Listings

Enhanced Profile+ listings include a blue bar listing with links to website and social media as well as an ad/logo. In addition, a short company description can be added. Once visitors open your listing they will see your microsite with YouTube videos, ad, full company description, BBB seal and google reviews (see Microsite).
Enhanced Profile+ Footer Ad on Home Page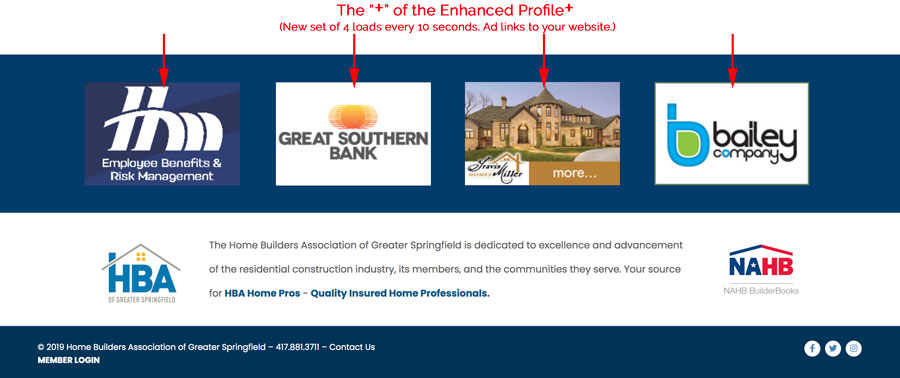 Enhanced Profile+ includes a rotating ad at the bottom of the HBA Home Page.
The HBA of Greater Springfield advertises and promotes HBAHomePros.com (membership directory) throughout the year. Web traffic to HBA Home Pros receives the second most visits next to the HBA Home Show.
Visit HBAHomePros.com