President's Blog: Looking Ahead (Part 2 of 3) – Education is Our Standard
It was my honor to address HBA members at our annual HBA Christmas Party & Banquet on December 13. For those who were not able to join us, or for others who might like to look a little more closely at what we covered together that evening, I'm breaking the main content of my speech from that night into a three-part blog post here on SpringfieldHBA.com:
PART ONE: Membership is Our Foundation
PART TWO: Education is Our Standard
PART THREE: Advocacy is Our Prize
In last week's "Part One" blog, I shared how everything the HBA does on behalf of its members and the industry depends on successful recruitment, retention and overall growth of our membership. As we grow, we become better advocates, educators, business generators, marketers, etc. In short, the HBA's growth makes us increasingly better at everything that you count on the HBA to provide or enhance. Put simply: membership is our foundation for everything else.
PART TWO:  Education is Our Standard
But if membership is our foundation, what will we build on it? Members of the HBA of Greater Springfield hold themselves to a high professional standard, setting the bar for the industry. Our high standard is epitomized by our educational mission. It has two components: 1) We educate the public in ways that benefit our members; and 2) We educate our members and the industry professionally.
"Educating the Public" is much tougher than it sounds. And it is a project that never ends. Multi-billion dollar companies spend very large amounts of money "educating the public" on painfully simple message points ("Coke is it!"). To the extent our recourses allow, we constantly seek opportunities to educate the public in ways that benefit our members.
For example, this year, with increasing pressure for code-mandated residential fire sprinkler systems, our HBA focused on helping the public understand how fire deaths are actually prevented: working smoke alarms. HBA Board Member Mike Benna suggested that the HBA partner with two leading associate members (Meeks – The Builders' Choice and Metro Appliances and More) to publicly donate new, working smoke alarms to area fire departments that install those alarms in older homes.
In 2011, with the support of Meeks and Metro, HBA was able to donate 450 smoke alarms to the Springfield and Republic Fire Departments. Each donation provided publicized opportunities to promote the installation of new smoke alarms in older homes as the most cost-effective and life-saving measure to take for fire safety. We are in discussions now with fire departments in Nixa, Ozark, and elsewhere for similar presentations in 2012.
Of course, smoke alarms aren't the only way we educate the public. Our enhanced HBA Find-A-Pro search engine is the most visited page of SpringfieldHBA.com and it helps consumers find HBA member professionals, while identifying "marks of distinction," such as HBA membership requirements and professional designations held by members.
KY3's Focus on Home partnership (both on television and now online). SpringfieldHBA.com's "Tips from the Pros" Blog (where you can lend your expertise and your name to help consumers make wise decisions).
The list of ways the HBA educates your future customers goes on and on. Even so, our education mission extends even greater benefits directly to HBA members, as we remain committed to the professional education of our members and the industry.
In May 2011, we unveiled the region's first ever "Local Economic Impact of Housing" Study, demonstrating how new development more than pays its own way. It is a valuable tool for members and the industry, demonstrating the actual financial reward that residential development brings to communities. It is an education planning and zoning commissions and other policymakers need as they consider ill-advised impact fees, or other miscalculated efforts to make residential development "pay its own way."
The study was released as a part of the HBA's annual Ozarks Regional Housing & Construction Conference, where industry professionals gathered valuable insights about opportunities in today's challenging marketplace, and how to take advantage of those opportunities through smart business practices.
Our partnership with MarketGraphics Research Group continues to make available meaningful local data, analysis, and forecasts for new home construction and lot development. This forecasting data is only available through the HBA/MarketGraphics partnership – and it is available to all HBA members by virtue of your membership.
And, 2011 saw the HBA step up its commitment to our members' pursuit of professional designations (CGB, CGR, CGA, CGP, CAPS), in a way that has been truly remarkable. As the industry emerges from recession, many HBA members are eager to compete for new business by earning, maintaining and marketing professional designations. Unfortunately, the economic impact of the last several years has left many of those who have survived without the available financial resources to pursue or maintain these credentials.
So, the HBA Charitable Foundation board of directors generously bridged that gap, by committing $31,000 over two years to an HBACF Member Scholarship Fund.
For those members who are serious about pursuing a professional designation in 2011 & 2012, the HBACF is underwriting 50% of your tuition. And by making this commitment, the HBACF also made it possible for the HBA of Greater Springfield to guarantee that all of the necessary courses for members to complete these professional designations are offered locally this year and next. Herrman Lumber Company has also stepped forward as the official "Professional Designations Partner" of the HBA of Greater Springfield, promoting and supporting HBA education programs for members.
Since starting the HBACF Member Scholarship Fund, 87 member scholarships have been awarded in 2011. Sixteen new professional designations were completed in the first year of the two-year program. More than 50 HBA members now hold professional designations and dozens more are well on their way.
This innovative HBACF member scholarship program is great new idea that has directly benefited HBA members. And I cannot thank enough the HBACF Board of Directors and Herrman Lumber Company for their bold leadership and support of HBA members.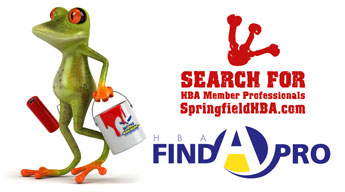 HBA is working to promote those "marks of distinction" designations through advertising in local housing magazines, online through HBA Find-A-Pro, and through demonstration projects like our 2011 partnership with Habitat for Humanity to build two "Green Certified" "Builders' Circle" Habitat Homes. These efforts represent a great example of how the two components of our education mission (educating the public and educating our members) can work in harmony.
Membership is our Foundation. Education is our Standard. With the foundation and the standard clearly defined, what's next? Our Prize. Next week, I look forward to sharing how, for HBA members and for anyone who cares about the future of all forms of residential construction, our "prize" is found in our advocacy efforts.
—
PART ONE: Membership is Our Foundation
PART TWO: Education is Our Standard
PART THREE: Advocacy is Our Prize