Design Tip – Simply Frame Your Mirror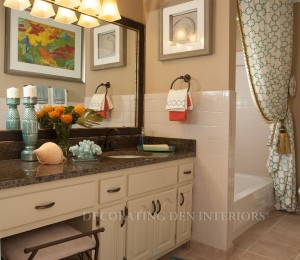 This product is for business or home owners that have a dominating, frame less, wall mounted mirror in their bathrooms.  It can transform your mirrors beautifully, easily and affordably without taking them down or replacing them.
Our product is designed to be used with most plate glass mirrors, whether or not there is clearance around it; or if the mirror sits on the backsplash.  Many styles and finishes to accommodate any style or budget and we can fit mirrors as large as 144″.
At Decorating Den Interiors, you have questions we have answers.
This HBA Home Pro Tip provided by Decorating Den Interiors.