COVID-19 Info and Updates
Because of this unprecedented event we know that many of you in the construction industry will have questions and we will do everything possible to guide you through this quickly changing environment. Because this situation is continually evolving, please check back frequently as we will be adding new information as it is received.
Information for the municipalities covered by the HBA of Greater Springfield at the top and others located at the bottom.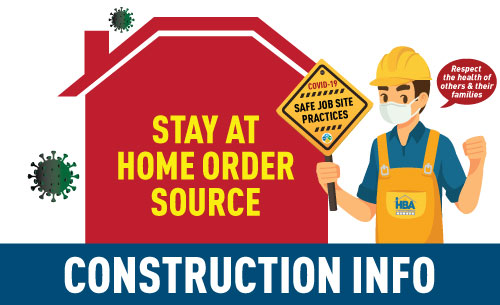 Here are some business resources provided by KPM CPAs: SBA OFFERING LOANS TO SMALL BUSINESSES HIT HARD BY COVID-19 FAMILIES FIRST CORONAVIRUS RESPONSE ACT DETAILS F.A.Q. on Stimulus Checks, Unemployment and the Coronavirus Bill Families First Coronavirus Response Act: Q&A For more please visit the KPM website – click here
Read More
The construction industry naturally lends itself to "physical distancing".  As workers are moving around job sites with equipment and materials, it is often unsafe to be working closer than the recommended CDC six-foot distance. Whether commercial or residential, construction workers are almost always working independently to complete their assigned task. This makes construction a much less risky industry to deem as essential, helping to lessen the shock of this pandemic on our local economy –  which will be substantial. For details on what aspects of construction are considered essential click here.
Read More
Christian County Stay at Home Order – PDF Ozark Stay at Home Order – PDF
Read More
NAHB Chief Economist Robert Dietz provided the following overview on Friday, March 20, 2020. It has been a dramatic week given ongoing aggressive government action to slow the spread of the coronavirus. While concern is still growing about the current environment, it is important to keep in mind that the crisis will eventually end, and with that conclusion, economic healing will progress. NAHB has made significant forecast revisions given the growing "pause" of the U.S. economy. We are assuming an approximate eight-week mitigation period, followed by a decline in the growth rate of virus cases. This will enable portions of...
Read More
This video will give you updates on regulations and communications, best practices are discussed, as well as additional resources for employers to access for their disease response plan are provided. HM Risk continues to monitoring new developments so that we can continue to provide the best possible service experience to our clients. https://youtu.be/OazcxnXqvHE A Q&A session will not be provided for non-clients, however, there is still a great deal of information and it's a video. If anyone has needs they can reach out to me. Vanessa L Scavuzzo p: 417.414.6780 | c: 816.810.8164 vscavuzzo@hmbenefits.com
Read More
Implementation Guidance Employee Paid Leave Rights Employer Expanded Family & Medical Leave Requirements Q & A Implementation Guidance This Department of Labor (Wage and Hour Division) guidance addresses employment questions such as: How does an employer count its number of employees to determine coverage? How can small businesses obtain an exemption? How does an employer count hours for part-time employees? How does an employer calculate wages employees are entitled to under the FFCRA? More info at – https://www.dol.gov/agencies/whd/pandemic Employee Paid Leave Rights The Families First Coronavirus Response Act (FFCRA or Act) requires certain employers to provide employees with paid sick or...
Read More
Other Industries and Municipalities - COVID-19