Corn Madness in March! Sign Up for Fun!
Can you throw bags of corn at a hole on a board?  Then sign up to play in the Corn Madness Tournament and join in some friendly competition throwing corn bags!  Sponsored by FamilySAFE. Don't know what Corn Madness is all about, see "Game in Brief" below.
March 15 – 5:30 pm start time
Location: FamilySAFE – 221 West North Street, Republic
Previous Champions:
2015 – Team Meek's Design Center (Mike Benna & Aaron Wahlquist)
2014 – Team FamilySAFE (Robert Rayl & Alex Hall)
Sign Up Now before the brackets are full!

Enjoy fun, food and prizes galore!  Also, try your hand at the Pop-A-Shot basketball competition as well as the throwing of corn bags!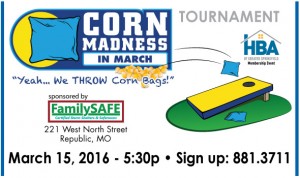 Sign up, at no charge, simply email Jamie@SpringfieldHBA.com.  Include company name and the names of the two people on your team.  Or download the entry form and return to the HBA Office.
Not feeling competitive? Then sign up to be a spectator and just come and enjoy watching all the FUN!
CORN MADNESS competition begins at 5:30.  The first round of teams will begin playing between 5:30 and 6:00.  Remember to sign up early in order to pick your time slots!
See last year's action – click here for video.
Game in Brief:
Two person teams
Two cornhole boards at official distance
Your teammate stands at opposite board
Opponent stands next to you at one board
Throw bags of corn to land on board or in hole
Board counts as 1 point
Hole counts as 3 points
Opponent tries to get more on the board or in the hole
Opponent also tries to knock off your corn bags
Scoring Example: You get one in the hole for  3 pts – opponent gets one on the board for 1 pt – your total score is 2 points (3-1=2). Great way for kids to learn addition and subtraction.
First team to 21, at the end of an inning, wins
15 minute time limit per game – rarely exceeded
Click here for the American Cornhole Association official rules. Due to time constrains, not all of the official rules will be followed.
Post your fun on Facebook, Instagram or Twitter or comment on the FamilySAFE and HBA Facebook pages to share your fun. Use hashtag #HBAHomePros