Burgers, Brats, Blackjack, Blocks & Bricks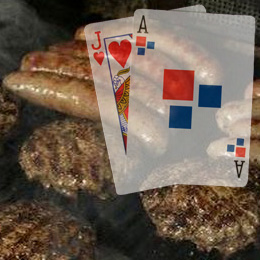 HBA Members & Prospective Members. Sign Up Now for the April 15th HBA Networking Event at Midwest Block and Brick for Burgers, Brats and Blackjack. Not only will it be a blast, but it is all compliments of Midwest Block and Brick on Tax Day. There is no better day than Tax Day to relax and not have to pay for a meal.  Be sure to thank Sam Lock, Mike Coan and the rest of the crew for the opportunity to visit their facility and enjoy good food and fun at no cost to you.
The one thing you will definitely not be at this HBA Networking Event is bored. There will be five, yes four Blackjack tables in addition to Networking, Special Prizes and plenty of Burgers and Brats. We wish we could share what the prizes will be, but we have been sworn to secrecy. Perfect weather to hang out around the fire pits and enjoy the evening nibbling on smores or step inside the showroom and play a few games of blackjack. Fire Pit! That seems like a nice prize doesn't it? Or maybe some gift certificates too? Hint…
Midwest Block & Brick manufactures and distributes concrete block, retaining walls, pavers, brick, stone, and other masonry and landscape products. They operate in seven states and have 21 locations. Their client base includes architects, engineers, masons, landscape contractors, and homeowners. They sell both to the trade and public.