Did you know that it takes an average of 22 different subcontractors to build a home?
READ THIS ARTICLE IN THE 2017 HBA EVENT MAGAZINE
Indeed, home builders rely on a number of highly trained workers to get the job done right. This includes dozens of skilled artisans and professionals, including carpenters, architects, engineers, plumbers, electricians, painters and landscapers. Analysis from the National Association of Home Builders (NAHB) shows that 70% of builders typically use somewhere between 11 and 30 subcontractors to build a single-family home.
As the housing market continues to strengthen, home builders across the country and here in the Ozarks are seeking skilled workers – such as carpenters, framers and roofers – to help them build the American Dream. In fact, according to NAHB analysis of the federal government's latest Job Openings and Labor Turnover Survey, the number of open construction sector jobs (on a seasonally adjusted basis) rose to 214,000 in July.
---
Build My Future invites students from throughout the Ozark Region to learn about opportunities associated with construction and business-related trades through a hands-on approach. While attending the exposition, students and teachers will participate in a variety of activities such as a welding simulation, brick laying, nail driving, and more, while also learning the vast variety of careers connected to the construction industry. Stop by and visit with the HBA of Greater Springfield at this event. Event planned by the Ozark Region Workforce Development Board and the Build My Future Collaborative. The inaugural Build My Future is scheduled for April 12, 2017. More on this event…
---
This means there is ample opportunity for motivated students seeking a rewarding career path. Residential construction workers consistently express high job satisfaction and average salaries for Missouri, in this line of work, also remain competitive with other industries in our area (see samples below).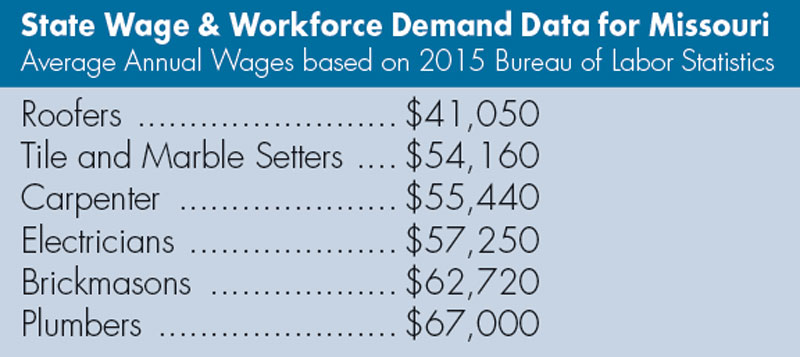 In conclusion, the building trades offer a great career path. And, the residential construction industry is one of the few sectors where demand for new workers is rising. Parents, teachers, counselors and students must once again recognize that a vocational education can offer satisfying career paths and financial gains.