President's Blog: Looking Ahead (Part 3 of 3) – Advocacy is our Prize
It was my honor to address HBA members at our annual HBA Christmas Party & Banquet on December 13. For those who were not able to join us, or for others who might like to look a little more closely at what we covered together that evening, I'm breaking the main content of my speech from that night into a three-part blog post here on SpringfieldHBA.com:
PART ONE: Membership is Our Foundation
PART TWO: Education is Our Standard
PART THREE: Advocacy is Our Prize
Two weeks ago, in my "Part One" blog, I shared how everything the HBA does on behalf of its members and the industry depends on successful recruitment, retention and overall growth of our membership. As we grow, we become better advocates, educators, business generators, marketers, etc. In short, the HBA's growth makes us increasingly better at everything that you count on the HBA to provide or enhance. Put simply: membership is our foundation for everything else.
Then, last week, in "Part Two" of this blog series, we covered what has been a terrifically successful year for the HBA's education efforts – both to educate the public (in ways that benefit our members), and also to educate the members themselves. In the process, we have developed a pervasive culture of education – a culture that cannot help but raise the bar of professionalism in our industry. So, if membership is our foundation, it is also abundantly clear that education is our standard.
PART THREE: Advocacy is Our Prize
We don't build a foundation for the foundation's sake. And we don't uphold a standard simply for the sake of the standard. There must be some ultimate goal, some outcome, some reward. Otherwise, why go to all the trouble? Surely there must be a prize at the end of all this!
For HBA members – and for anyone who cares about the future of all forms of residential construction – our "prize" is found in our advocacy efforts. Earlier in this blog series, I shared an important lesson I learned when asking members what they most expect from their HBA membership. In a nutshell, the basic equation is pretty simple: "Builders want advocacy; and associates want builders."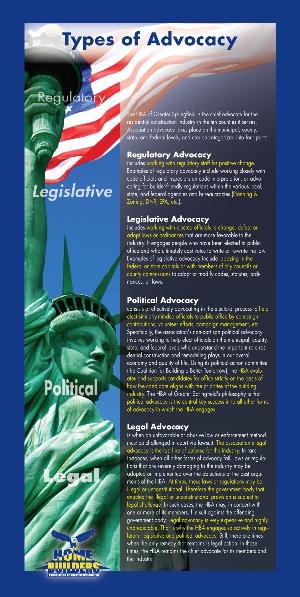 Effective HBA Advocacy satisfies the needs of builders. And, done properly, it can simultaneously provide associate members with meaningful access to those builders. More on that in a moment. If the HBA's Membership is our foundation; and Education is our Standard, then Advocacy is our Prize.
You may ask, "Why would you say advocacy is our prize? I'm in business to make money, not to 'play politics'."
We aren't in the advocacy game for our health, or to scratch our political itch. We are there because we have to be. Simply put, if HBA advocacy fails, your business is in jeopardy. But if HBA advocacy succeeds, we all can prosper.
Our HBA advocacy comes in four kinds: Regulatory, Legislative, Political and Legal Advocacy. In our HBA Board Room hangs a framed poster that sorts out and clearly defines those four categories. This year, thankfully, our Regulatory, Legislative and Political advocacy has been effective enough that lawsuits on behalf of our members (legal advocacy) never became necessary.
Consider a few examples just from 2011 of how HBA advocacy is making it easier for you to successfully do business:
Legislative Advocacy Case Study: Residential Fire Sprinklers ('Mandatory Option' Extended)
As many of you likely know well, the International Code Council process was hi-jacked by product manufacturers and well-intentioned but badly misled fire officials in 2008.
The result was that what had always been a consumer choice in the past became a mandate starting at the end of the 2009 code cycle, and extending into the 2012 code cycle.  The mandate threatened to add thousands of dollars to the price of every new home, in the form of an "upgrade" that few if any consumers would choose for themselves. But that's not all.
People generally assume the tradeoff for these increased costs is some improvement to life safety of occupants. The facts tell a different story. Simply put, fire sprinklers in new homes don't save lives. That is because, statistically, fire deaths don't happen in new homes. In fact, fire deaths have declined so dramatically over the last few decades that they almost never happen, period. When fire deaths do occur, they nearly always occur in older homes – homes built prior to modern building codes.
So, we know that if we really want to make a difference in saving lives that are threatened by fire, we should not price people out of the ability to buy a new home. Rather, we should do everything we can to make older homes safer. And one undeniable fact is that working smoke alarms, installed in old homes, DO save lives.
We believe so strongly in smoke alarms that the HBA partnered with two leading associate members (Meeks – The Builders' Choice and Metro Appliances and More) to publicly donate 450 new, working smoke alarms to Springfield and Republic fire departments. The fire departments, in turn, installed those alarms in older homes that need them. We are in discussions now with fire departments in Nixa, Ozark, and elsewhere for similar presentations in 2012.
But we couldn't stop there. A real and imminent threat to our members' ability to make a living was posed by the specter of this costly and unnecessary mandate. So, the HBA of Greater Springfield hired a lobbyist to work in the legislature on our behalf in 2011. And, our HBA helped lead a coalition of HBAs (and HBA lobbyists) statewide to successfully extend "mandatory option" legislation (legislation that forbids political subdivisions from mandating sprinklers, but requires builders to offer them) through 2019.
Regulatory Advocacy Case Study: Local Building Codes
In 2011, our HBA orchestrated coordinated, joint code adoption schedules and amendment meetings with code officials in Nixa, Ozark, and Christian County. For the first time ever, these code-adopting entities are at the table with one another (and with HBA representatives) in an attempt to offer the industry unprecedented consistency in codes, interpretation, and enforcement. We also persuaded these reasonable jurisdictions to agree in principle to adopt code amendments in 2012 that are aimed at greater consistency with City of Springfield and Greene County. This could mean area-wide code consistency for the first time ever.
Meanwhile, we have worked in close partnership with Building Development Services in Springfield and Greene County on common sense code amendments for the 2012 building code. Working together with fair-minded partners at the city and county, we have agreed on a plan to amend out unnecessary but costly requirements of the new (2012) code, including (among others):
Drywall enclosure requirements beneath floor joists;
Replace mandatory fire sprinklers with Missouri's "mandatory option;"
Arc Fault Interrupters in rooms other than bedrooms; and
Replace the onerous 2012 energy code (chapter 11 of the IRC), with more reasonable 2006 IRC version.
The more reasonable, amended version of the International Residential Code will be set for adoption by Springfield and Greene County in the first half of 2012. And, due to the HBA's groundwork regulatory advocacy efforts with surrounding communities, we are hopeful that these same common-sense amendments will be consistently applied throughout the region. The HBA's regulatory advocacy on behalf of members will save tens of thousands of dollars per new home built, keeping new housing affordable for your future customers.
Political Advocacy: Getting the Right People in the Right Places
Of all the services the HBA works to provide, advocacy on behalf of builders (like what was just described), is perhaps the most vital role the HBA can fill. But effective advocacy is an expensive process – a process that begins with funding a strong political action committee (in our case, the HBA's Coalition for Building a Better Tomorrow). Our regulatory and legislative advocacy efforts are more effective if the right people hold elective office.
So, yes, we engage in the election process, too, to make sure reasonable people are elected to office.
Special interests that are counter to your best interest are actively engaged in the political process. So are others within the industry, who may not always share the same goals and priorities we have as home builders in southwest Missouri. Builders' need for industry advocacy has never been greater than it is right now. 
Yet, after years of unprecedented economic challenges, few builders are in position to make substantial financial contributions to the HBA advocacy efforts that are so critical to their survival and success in the future. Meanwhile, associates' marketing budgets are mere fractions of what they once were. Associates are looking to invest their limited marketing dollars in real opportunities to connect directly with builders.
With that in mind, the HBA Government Affairs Committee & HBA Board of Directors have developed The Advocacy Leadership Team program for 2012. The program funds the advocacy that builders desperately need, by providing the access that associates desperately crave. Twenty builders have committed to make themselves available for three limited-engagement events in 2012, for Associate Advocacy Partners only. These exclusive direct marketing opportunities will be available only to a limited number of associates, and only to those who support the CBBT above a certain level. Watch your Housing News Weekly or contact Government Affairs Specialist Jennifer McClure or CEO Matt Morrow for more information about how you can be a part of the Advocacy Leadership Team.
Since the stakes have never been higher for our members, the HBA must adapt to become increasingly effective in all its advocacy efforts on our members' behalf. With that goal in mind, we've completely overhauled our advocacy committee structure for 2012. HBA members who want to help advocate on behalf of the industry in which we all make our livings can serve on one or more of the following:
Political Advocacy Committee: Raise PAC funds. Interview candidates for office. Make recommendations to the Coalition for Building a Better Tomorrow board for financial support of campaigns. Help manage and execute political campaigns for office.

Legislative Advocacy Committee:

Meet with and educate elected officials to share the HBA's perspective on key industry issues. Monitor proposed ordinances and legislation. Recommend official HBA positions to the HBA board on issues affecting the industry.
Regulatory Advocacy Committee: Meet with and educate government officials who are not elected (code officials, city, county or state regulatory department staff) on regulatory issues affecting the industry. Work out code, inspection, interpretation and other regulatory issues with departmental or agency staff.
So, there we have it – in three parts: Membership, Education, and Advocacy. These are our pillars as an HBA. This is who we are. And fundamentally, these priorities are what we want. And, as we commit to work side by side toward these shared priorities, we will also find lots of "business builder" opportunities along the way:
If you'd like a perfect example of how working side-by-side on our shared priorities brings with it meaningful business benefits, consider our shared experiences in Joplin.
On May 22 of this year, a devastating tornado destroyed much of Joplin. More than 150 people were killed and 7,000 homes were destroyed. In the months that followed, many HBA of Greater Springfield members spent countless hours serving side-by-side in that community. We worked together on our shared priorities, helping our neighbors. Efforts ranged from simple debris removal, all the way to building seven homes in seven days on national television!
Something happens when people serve together, working toward shared priorities. Bonds form. Connections last. For many of us, that happened inJoplin. But it doesn't have to take massive tragedy to build those bonds and form those connections. We can do that every day, working on our shared priorities as an HBA.
Membership. Education. Advocacy.
2012 will be better than 2011. And 2013 will be better than 2012.
Part of the reason is that we will pull together toward our shared priorities as an HBA. Together, we can be stronger than the sum of our parts. So, I encourage you: Prepare for a prosperous new year. And commit yourself to working alongside your fellow HBA members, on our shared priorities of membership, education, and advocacy.
You may be surprised at what it can do for your business!
—
PART ONE: Membership is Our Foundation
PART TWO: Education is Our Standard
PART THREE: Advocacy is Our Prize