2013 HBA Event Magazine Available Online – Home Show Issue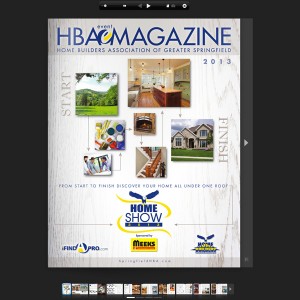 This year the HBA Event Magazine is up and online well before the Home Show to let everyone have a sneak peek.
Most people like to have a physical publication to flip through (especially at the Home Show) and display on their coffee table or keep a copy at the office. But, there are some nice interactive features with the online version allowing you to simply click on ads and links to see more information that are not yet available with a paper copy. Maybe in 2020 we will be able to see these same benefits with interactive paper? The other benefit with the digital version is that you can keep a copy handy on your smart phone or other devices while at the Home Show and all year long. A great reference and informational tool online or on paper.
If you would like to see the online publication click here or you can wait and pick one up that the Home Show January 18-20 at the Springfield Expo Center. (Hours are January 18 – 11am-8pm, January 19 – 10am-8pm and January 20 – 11am-5pm.) Why not do both?