May Membership BREAKFAST & Directory Unveiling – Southern Materials
Wahlquist 05/11/2017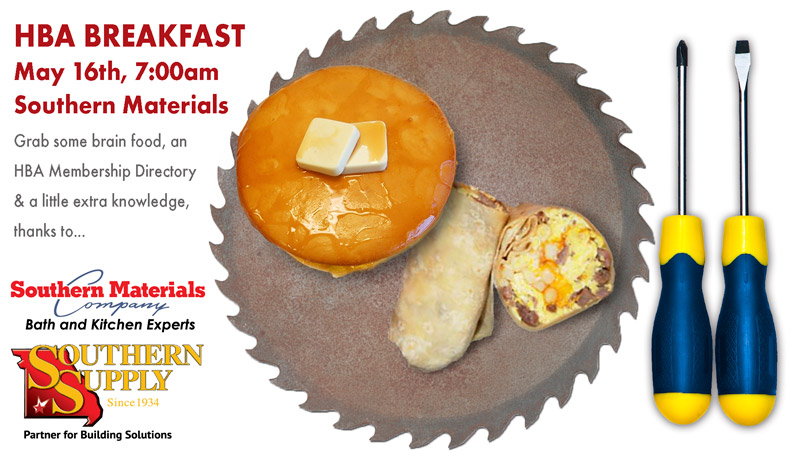 The May HBA Membership event in the past has been an evening event for the HBA Membership Directory unveiling. This year, we are OPEN FOR BREAKFAST at Southern Materials!!!
Both Southern Supply and Southern Materials are sponsoring this morning breakfast providing a hardy breakfast of breakfast burritos, pancake/sausage skewer, donuts, coffee and juice. In addition, there will be two educational sessions (10-15 minutes each) covering Cedar Creek Summit Siding and Plumbing. As a breakfast bonus, you have a chance to win St. Louis Cardinal tickets, Gift Certificates or Plumbing Products. Don't forget to pick up the 2017-2018 HBA Membership Directory and ask about the new Category Banner Ads on HBAHomePros.com (see sample on category "Countertops").
Please RSVP today so that the sponsors can determine how much food to have prepared.
May 16th, 7:00AM

Gathering at Southern Materials

Sponsored by Southern Supply & Southern Materials

Prizes!!!!

Quick Educational Segments

Pick up a new HBA Membership Directory