HBA Home Show 2013 This Weekend – Sponsored by Meek's
Wahlquist 01/10/2013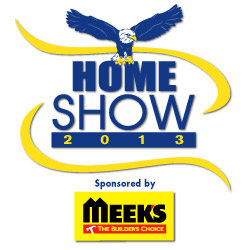 The time has come and everyone is excited to see what is in store at the HBA Home Show. Make sure your plans include attending the HBA Home Show (sponsored by Meek's - The Builder's Choice) on January 18-20 at the Springfield Expo Center in downtown Springfield (625 St. Louis Street).
Don't forget to invite friends and post on facebook, Twitter, Pinterest, Instagram, LinkedIn and everywhere else that you can get the word out. If you are interested we have some simple banners with "Home Show 2013" (along with dates and times) that you can add to your website or social media. (clicker here for banner ads).
Thank you to each and every member that is participating in this event which happens to be the largest trade show in southwest Missouri. Visitors would not have the opportunity to enjoy such a large and spectacular show without volunteers, vendors and all your hard work.