HBACF Belt Sander Video – 2014
Wahlquist 10/14/2014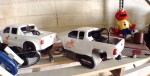 What a great evening that was had out at Midwest Block & Brick for our HBACF Belt Sander Races! We certainly know how to draw a crowd! With around 75 in attendance eyes were definitely on who would take home the prize! Would the stock class winner be True Grit or Grit-R-Done teams from the City of Springfield….or would Murney Associates beat them in the end!! There were spectators that lined all up and down the track and some who could not keep their eyes off the BIG screen with instant replay (watch video below)!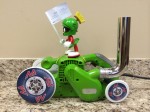 The music was cranking and the BBQ was great, people were mingling the crowd and the buzz word of the hour was Belt Sander!
Thank you to our Sponsors: Springfield Electric, LLC, Midwest Block & Brick, Murney Associates, HK&W Supply Co., Creative Outdoor Lighting, Audio Input,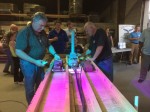 and the HBA Charitable Foundation for helping to make this event such a success! There is already talk on who will enter a belt sander next year, so watch out teams, there could be some great surprises!
Here are your winners:
Stock Class:
1st Place – True Grit – City of Springfield
2nd Place – Murney Associates
3rd Place – Grit R Done – City of Springfield
Modified Class:
1st Place – Springfield Electric
2nd Place – Harry H. Johns Inc.
3rd Place – Rock Solid Renovations
Best Dressed:
Murney Associates Realtors - Debi Murray
Video below is a short recap of the event. Look for a longer promotional video for the 2015 event to come out in late February of 2015. A special thanks to Zac Estep from BWI Sanitation for his videography and video editing.


HBA Belt Sander 2014 from Aaron Wahlquist on Vimeo.